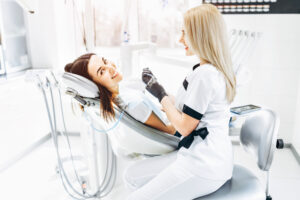 When a person has a specific smile flaw that they want to treat, they can feel comfortable asking about cosmetic dentistry. However, when they have several problems with the way they look, which can include oral health as well as cosmetic issues, they can feel intimidated by the idea of care. At our West Allis, WI dentist's office, our practice is ready to talk with you about what to expect from smile care. We are ready to provide full-mouth services that take on a mix of oral health and esthetic concerns. By planning out your services, we can make it easier to take on a seemingly ambitious plan to give you a restored and exciting smile!
What Would You Like To Improve About The Way You Look?
While some patients interested in cosmetic dentistry want to take on something specific, such as dental discoloration or a chipped tooth, others can have broader ambitions. Unfortunately, it can be intimidating to look into treatment when you have several improvements that you would like to see. For patients who need more work, we can recommend full-mouth care to provide all of your desired changes. That can go beyond cosmetic work and focus on issues with unhealthy or missing teeth.
Assisting Patients Who Want To Take On Several Cosmetic And Oral Health Concerns
Full-mouth cases can address concerns about teeth that are discolored, damaged, misshapen, out of position, and in poor health. If necessary, we can even include prosthetic treatment in larger plans to give you back your full confidence in your smile! An initial assessment with Dr. Stubbs can determine what service or services are right for you. After this is done, we can support you in laying out a treatment plan that is both comprehensive and suitable for your current schedule requirements.
Keeping Up With Smile Care After Your Initial Treatment
Whether you have one procedure or several performed, your goal after improving your smile should shift to preserving the results that you see. With your regular dental exams and cleanings, you can have an easier time avoiding future difficulties. We are able to provide important feedback about the state of your teeth when you see us, and when necessary we can identify issues that require additional care. We can also provide careful cleanings that make future difficulties less likely to occur.
Talk To Your West Allis, WI Dentist About Your Goals For Smile Care!
You can count on our practice for support when you are interested in smile care, even when you feel your goals are ambitious, or when your improvements require restorative as well as cosmetic services. For more information, reach out to Dr. Stubbs in West Allis, WI, by calling our practice at (414) 541-8250.