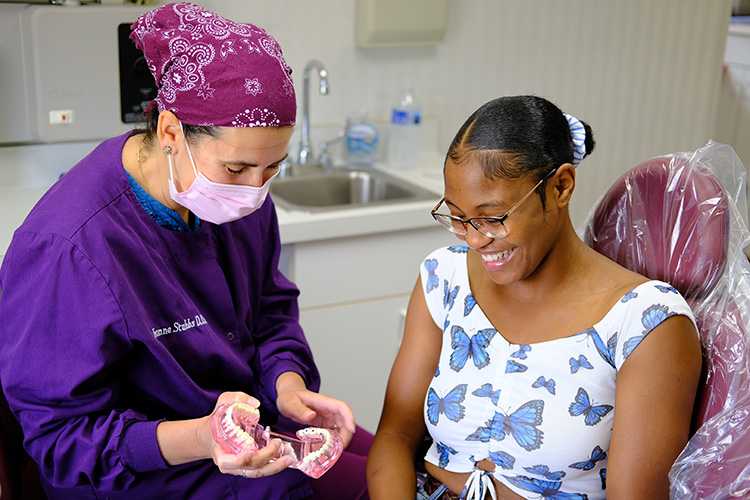 Brushing twice a day and regularly flossing help in maintaining your oral health. Still, to really get in there and thoroughly remove plaque and tartar that has accumulated over time, a professional cleaning is recommended. If left untreated, bacteria will grow and move from your teeth to your gums, which may lead to gum disease and the issues that come along with it. With a professional cleaning, we will remove any built-up plaque and tartar, helping reduce the risk of tooth decay, gum disease, and tooth loss.
Dental Technology Benefits
After our thorough cleaning, we will check for any dental issues such as decay, bite alignment, and other oral abnormalities. To help make these exams more accurate, comfortable, and quicker, we utilize two dental technology tools.
Digital X-rays: These are like traditional film x-rays but with minimal exposure to radiation. They offer us the ability to see your whole oral structure and individual teeth. Unlike traditional x-rays, digital ones can be greatly magnified, which lets us see the smallest of cavities, cracks, or other dental issues. We can also store, reference, and send them to other dentists much more easily than traditional x-rays.
DIAGNOdent® laser cavity detection: We can detect tiny cavities and lesions below your teeth's surfaces by measuring the fluorescence in them. This helps us to quickly treat them, helping save the tooth while preventing further damage.
Oral Cancer Screenings
We will check for oral cancer during your routine exam. Some of the issues we look for include lesions, sores, and any discolored areas in your mouth. If we detect an issue that needs further investigation, we may order a biopsy. Detecting and treating oral cancer early may help reduce the risk of it developing further and affecting other parts of your body.
Schedule a Dental Exam and Cleaning Today!
Routine exams and dental cleanings help maintain your overall oral health. To schedule an appointment, fill out our online form, or call our office in West Allis, WI, at 414-541-8250. We proudly serve the residents of West Allis, Brookfield, Wauwatosa, and all Western Milwaukee communities.