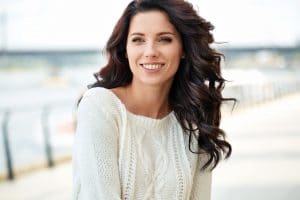 A smile that used to light up a room can start to appear dim as the years pass. The steady buildup of teeth stains that hurt the quality of your appearance can be difficult to address. New stains can form even as you maintain a smile care routine that keeps you free of cavities. You can find that removing stains that are already present, even with store bought whitening agents, is difficult. At our West Allis, WI dentist's office, patients who grow concerned over dental discoloration can find that a professional teeth whitening is able to deliver the results that they want. In situations where discoloration is occurring far enough below the surface of teeth to make whitening effective, we can discuss the value of a different cosmetic dental procedure.
Have You Noticed A Change In The Color Of Your Smile?
You may not observe a change in your smile color from one day to the next, but comparing old pictures of your smile to its current form can reveal how stains have changed the way you look. Many products that we eat and drink can leave behind particles that gather on teeth and dull them. Fighting them by brushing thoroughly can help, but as they gather, you can find that you are still seeing unwelcome changes.
Discuss A Teeth Whitening Treatment With Your Dentist
If you are concerned about the color of your smile, you can find that a take-home teeth whitening kit can deliver exciting results. With your kit, you can deal with stains that have slowly gathered over a period of time. These older stains can be difficult to address with only your toothbrush or a store-bought whitening treatment. The kit provided at our practice gives you a special whitening gel that is more capable of dealing with tough stains. Kits also include trays that will make the application of these gels easier.
Taking Steps To Prevent Future Stains
What should you do in order to prevent future teeth stains? Just as your routine can be adjusted to prevent future restorative dental procedures, you can correct your routine to minimize stains. It may take a change in your diet, particularly in what you choose to drink. Sodas, red wine, coffee, and tea are all able to leave stains behind. You should also be careful about consuming too many acidic foods and drinks, as they can lead to enamel erosion that makes stains easier to pick up.
Talk To Your West Allis, WI Dentist's Office About Making Your Smile Whiter
At Stubbs Family Dentistry, patients who are concerned about the color of their teeth can learn about the benefits of undergoing a whitening treatment! We are prepared to offer a range of services that help patients remain confident in a set of bright, healthy teeth! Learn more by calling our dental office in West Allis, WI at 414-541-8250.