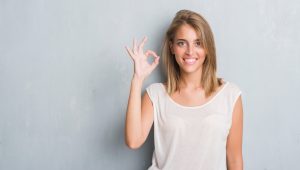 Everything in life has gotten more convenient. You can get just about anything on-demand now. Why should cosmetic dentistry be any different? Everyone wants a beautiful smile that gives them confidence, but small flaws in the appearance of your teeth can drag you down. What are your cosmetic options for fixing the problem quickly? Porcelain dental veneers give you the effect you're looking for. This cosmetic dentistry option can correct for all kinds of small flaws and even brighten the appearance of your smile. It's time to learn about how to get your beautiful new smile right away.
Porcelain Veneers Are Fabricated to Create a Beautiful Smile
When you have confidence in your smile, it shows. Porcelain veneers are a cosmetic treatment that aims to give you that confidence, despite minor flaws in your smile. The veneers are fabricated from thin sheets of dental porcelain. Your dentist can make an entire set of veneers that look proportional, symmetrical, and straight. They can even brighten the appearance of your smile. Once fabricated, your dentist will place the veneers on the surfaces of your teeth to create a beautiful, new smile, instantly.
Porcelain Veneers Can Often Be Placed in a Single Visit
A huge advantage that porcelain dental veneers present is that they can often be placed in just one visit. That means you get your new smile instantly. Your dentist will gently smooth out the surfaces of your teeth so that the veneers form a smooth connection. Then you can enjoy a confidence-boosting smile right away. Since porcelain veneers can correct for so many different cosmetic defects, they're a comprehensive overhaul for your smile. You can have this complete makeover while still using the structure of your healthy, natural teeth.
Your Dentist Can Determine Whether Veneers Are the Right Option for You
Before you move forward with dental veneers, your dentist will want to schedule a cosmetic consultation with you. This complimentary session will allow you to discuss your goals with the dentist. Based on your desired outcome and personal situation, your dentist can determine whether or not veneers are the right treatment for you. You'll also need to make sure that your teeth are healthy enough for cosmetic treatment. If you have any lingering issues with cavities or tooth decay, your dentist will need to fix this before moving forward with veneers.
Schedule a Veneers Consultation at Stubbs Family Dentistry
Get on track for a beautiful, new smile by setting up your complimentary consultation today. Dr. Stubbs will evaluate your teeth and walk you through the treatment process. It's time to love your smile. Make your appointment at Stubbs Family Dentistry in West Allis, Wi by calling the office at 414-541-8250.