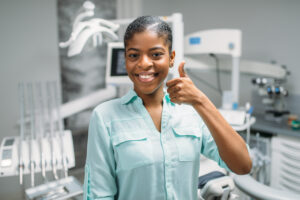 Better smile care can protect you against the threats of tooth decay and gum disease. These conditions are common, but people can underestimate just how much harm they can do. Protecting your smile at home is important, but to fully protect yourself, you should commit to regular dental exams. At our West Allis, WI dentist's office, we can provide important smile care in the form of regular reviews and cleanings. In addition to these routine services, we can help patients who want to make cosmetic changes. This is because we offer services that address worries about discoloration, poor spacing, and more to make lasting esthetic improvements.
Are You Entering 2023 With Confidence In Your Smile?
Whether your problems are with past health issues or worries about the way you look, you can find that your dentist is ready to help. To sustain your well-being, we offer continued support through preventive dental exams and cleanings. At these visits, you receive both timely feedback and services to help you lower your risk for future problems. For patients with specific concerns about their appearance, we can discuss different cosmetic dental services that can have a positive impact.
We Can Help You Take On Concerns About Your Oral Health
At every routine appointment, we can provide feedback regarding the health of your teeth and gums. An early warning about a cavity or trouble with gingivitis can lead to timely intervention, something that will limit the care that you need and prevent complications. Your visits also help you because you receive cleanings that fight the formation of tartar and plaque. Removing these substances will protect you against the formation of future problems!
Cosmetic Treatment Can Revitalize Your Smile!
The right cosmetic service can help you feel happier with your smile. We have different strategies that can help you take on problems like discoloration, spacing, noticeable wear and tear, and even issues with teeth that are not the right shape or size. We can take on many issues at once when we place porcelain veneers. What these restorations do is make significant changes to the way you look while only modifying the front surfaces of teeth.
Talk To Your West Allis, WI Dentist About Your Options For Dental Work!
There are different options for smile care that can make you happier with your appearance and oral health. Whether your goal is to preserve your dental health or make a change to how you look, we offer the right services that can support you. 2023 can be an exciting and successful year for your oral health and appearance! If you would like to find out more about how we can take care of you, please reach out to Dr. Stubbs in West Allis, WI, by calling (414) 541-8250.