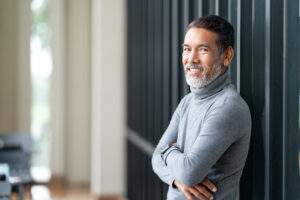 Having a full denture provided to replace a row of teeth can lead to lasting benefits. Your smile is restored, and you can feel more comfortable throughout your day thanks to its presence. However, many people worry that they will have a hard time adjusting to a removable appliance, and that they will feel frustrated as they try to keep it in position throughout the day. At our West Allis, WI dentist's office, we can offer a more effective solution in the form of All-On-4 implant dentures! Through this approach to restoring your full smile, we can use a select number of implants in order to hold a permanent denture. This offers more bite support and comfort, and it can help you avoid problems with jawbone deterioration, an issue for people who have experienced tooth loss.
Do You Really Have An Option To Receive Secure Dentures?
While removable dentures can have welcome benefits, they are not the only way to effectively replace a row of teeth. All-On-4 provides the option to have a full denture set in place thanks to strategically positioned dental implants. The implants create a degree of support for a restoration so that you can bite, chew, and speak with greater comfort. These restorations also provide long-term support for your jawbone, which can lose mass over time without the stimulation from your teeth roots.
Understanding The Positive Impact Of All-On-4 Implant Dentures
All-On-4 implant dentures provide more comfort and more functional benefits from prosthetic dental work. The implants themselves offer a secure hold for a restoration, and they also produce stimulation in the jawbone to keep it from deteriorating. That deterioration over time is a concern for several reasons. One is that if you have a removable denture, it can become less secure due to the physical changes you are undergoing. Another advantage to implant dentistry is that you can more easily apply bite pressure with your appliance, which lets you preserve a richer and more varied diet.
Enjoying Life After You Have Your Smile Fully Restored
Your All-On-4 implant denture can give you back confidence in your smile, dental function, and oral health. To preserve the results that you are enjoying, make sure you keep up with good oral health care at home and from routine oral health exams. We can provide both continued support for your well-being so that you do not experience new difficulties with your restoration and guidance on keeping up with good habits at home.
Talk To Your West Allis, WI Dentist About Treatment With Permanently Secured Dentures!
To find out more about the benefits to having your smile secured with an All-On-4 implant-held denture, please reach out to Dr. Stubbs in West Allis, WI, by calling (414) 541-8250.