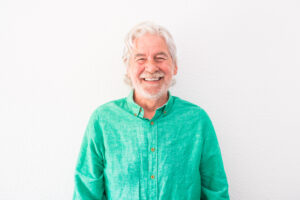 Once you lose a tooth, it can feel as though your smile will never be the same. The problem robs you of confidence in how you look, and it can create problems with your oral health that actually grow worse over time. Unfortunately, people sometimes find themselves in situations where not just one but many teeth are missing, potentially even an entire row! What can you do to restore your oral health and appearance after experiencing significant tooth loss? At our West Allis, WI dentist's office, we can actually provide a solution in the form of a permanently held denture. All-On-4 dentures provide enough stability to help you bite and chew, and they can generally help patients feel more comfortable after prosthetic treatment. This arrangement permanently sets a denture in place with a set of carefully placed implants. In addition to improving your bite function and smile, this can actually lead to more support for your jaw health!
Significant Tooth Loss Can Create Many Problems
Few dental issues can be as frustrating as significant tooth loss. The problem will leave you with limitations in what you can eat, and it can create problems with your appearance that age you and make you look unhealthy. It can be hard to know what to do when this happens, as you may worry that your options for prosthetic work are either limited or more involved than you are comfortable with. Thanks to All-On-4 dentures, a more pleasing solution is available, one that relies on a select number of dental implants and a custom denture that will remain secure once placed.
How All-On-4 Dentures Restore A Full Row Of Teeth
All-On-4 implant dentures will help you enjoy lasting prosthetic support from a denture that is permanently put in place. The process uses your dental implants to permanently stabilize your restoration, which will be secure enough to let you bite and chew with greater ease. Doing so will help you with more than just maintaining a richer and healthier diet. The stimulation from these basic functions will cause your implants to stimulate your jawbone. This mimics the kind of stimulation that our roots are supposed to provide, and ensures that our body will continue moving nutrients to the bone.
Keeping Up With Your Oral Health After Prosthetic Treatment
After you complete any kind of prosthetic dental work, you should keep up with regular dental exams to make sure you continue to see the right benefits from treatment. Preventive dental appointments keep you informed about more than just your remaining teeth, as they also provide opportunities to have restorations checked for potential issues.
Talk To Your West Allis, WI Dentist About All-On-4 Dentures
Through the restoration of your full smile with an All-On-4 denture, you can regain confidence in your appearance and health! For more information, reach out to Dr. Stubbs in West Allis, WI, by calling (414) 541-8250.