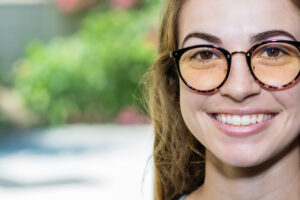 Stained enamel can draw attention that you do not want, and it can be difficult to keep the problem from view. While it can be hard to live with this flaw, fixing it can be easier than you anticipate. Our West Allis, WI dentist's office provides different recommendations to people who are embarrassed by the color of their teeth. When your trouble is confirmed to be with teeth stains, we can proceed by recommending a professional whitening treatment. However, if we find during a review that you need to do something about intrinsic discoloration, we can suggest another approach to care, one that is more effective at hiding the issue and improving the way you look.
Dental Discoloration Can Be An Embarrassing Issue
Whether it is caused by stained teeth or internal issues, dental discoloration can be a serious source of discomfort. It can make your smile look less attractive, and it can suggest that your oral health is in a poor state. This can also be a problem that prematurely ages you. Rather than work harder to keep your teeth hidden when you smile and speak, you can find that a professional cosmetic dental procedure can help. People who have this problem are often in need of help with excess staining. To improve the color of your enamel, we can supply a personalized teeth whitening procedure. To help with intrinsic changes that hurt your tooth color, we can discuss treatment with porcelain veneers.
Taking On Stained Teeth
A personalized teeth whitening kit can be specially prepared for you in order to help you fight enamel stains at home. We can go over the kit's use and talk to you about how you can use it to see your desired results. These kits include personalized trays that help patients with the application process. Patients are usually able to achieve their full results after approximately two weeks.
When Discoloration Is Caused By Something Other Than Stains
Is your issue with your appearance really linked to problems with teeth stains? There are times when people affected by this issue need to look into another approach. With porcelain veneers, we can fix problems with intrinsic discoloration. This refers to any issue that causes an internal change in tooth color that becomes noticeable. With veneers, we can hide this problem as well as others that concern tooth shape, size, and alignment.
Talk To Your West Allis, WI Dentist About Caring For Stained Teeth!
Teeth stains can be an embarrassing issue to live with, but it is not something you have to feel resigned to, as you can discuss cosmetic treatment at our office! We can offer solutions for stains as well as internal issues that lead to discoloration. For more information on how we can help you, reach out to Dr. Stubbs in West Allis, WI, by calling (414) 541-8250.