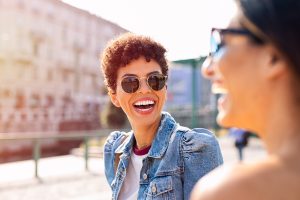 If you can no longer ignore the impact that stains have on your smile, you can be eager to learn about your options for treatment. While there are products available at the grocery store or pharmacy that will help you see some results, they may fall short of delivering your goals for changing your appearance. At our West Allis, WI dentist's office, we can recommend that you use a professional teeth whitening kit to make your desired changes! With the customized treatments that we offer our patients, we can help you see remarkable improvements that renew your confidence in your appearance!
Are You Growing Unhappy With The Color Of Your Smile?
Many people feel a sense of dissatisfaction with the color of their teeth. As you eat and drink different products, they can leave behind particles that make our enamel appear dull and discolored. As this worsens, it can make it harder for you to feel truly comfortable with your appearance. Fortunately, you can find that your dentist is ready to provide help in the form of a teeth whitening treatment that you take home. The kits that we give patients are personalized to help them see dazzling improvements.
Using Your Take-Home Teeth Whitening Treatment
The take-home whitening kits that we provide use potent but safe bleaching agents, which are made easier to apply by personalized trays that fit over teeth. For a recommended period of time each day, you will apply these agents to fight the stains that have gathered. As time passes, you can see steady improvements to your smile that give you a growing confidence in your smile. At the end of these sessions, you can feel impressed by how much your appearance has changed!
What Your Dentist Can Do To Improve Your Smile In The Office
Our practice can help you take on problems with the way you look in the office, too. With porcelain veneers, we can make changes that address problems with the shape, size, and color of teeth, making significant overall changes that give you an appearance that is healthier, more youthful, and generally more attractive. For people who feel that they have significant problems to address, we can even discuss the start of care to resolve full mouth cases where many problems are targeted and addressed.
Talk To Your West Allis, WI Dentist About Teeth Whitening Treatment
Through a professional teeth whitening treatment, you can make dazzling improvements to your smile by fighting embarrassing discoloration. Your customized treatment kit can help you remove stains that have made your smile look increasingly dull and discolored. We also provide in-office cosmetic services that are able to make lasting improvements to the way you look. If you would like to find out more, please contact Stubbs Family Dentistry today at 414.541.8250.