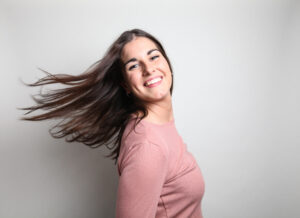 There are many issues that can rob people of confidence in the way they look when they smile and speak. One issue that can grow gradually over time concerns general wear and tear. As your teeth grow misshapen and flat from this issue, they can appear older and less healthy. The problem can worsen in less time if you have unresolved issues with teeth grinding and clenching. Through cosmetic treatment from your West Allis, WI dentist, you can actually put these concerns behind you. Our practice can recommend the placement of porcelain veneers to improve the way unsightly teeth look. These thin, durable restorations are capable of hiding many different flaws, and they are strong enough to maintain their appearance over many years.
Wear And Tear Can Worsen Gradually Over Time
The worsening problems that you have with enamel wear and tear can leave you with teeth that are misshapen, flattened, or even chipped and cracked. People who are dealing with this issue can feel unhappy about how their smile now makes them appear older than they are, and they can feel unhappy over the way these flaws draw unwanted attention. We should note that some issues with excess wear and tear can be serious enough to require more than just cosmetic support. If this is the case for you, we can discuss care with dental crowns!
How Veneers Help Reshape And Restore Teeth
Through the placement of custom porcelain veneers, we can improve upon the look of teeth that are damaged or misshapen. These slender restorations are placed on the front surfaces of teeth. They are designed carefully with measurements taken at an initial appointment. At your follow-up visit, we will confirm that your restorations are the right shape and size, and from there we will permanently bond them to the front surfaces of your teeth.
Why You Might Need A Tooth Restored With A Crown
It may be necessary for some of your teeth to be restored with crowns. This is based around their condition at the time you come in. If there are concerns that teeth are unhealthy or not able to support your bite, this can be an effective solution that offers cosmetic improvements as well as beneficial changes to your appearance.
Talk To Your West Allis, WI Dentist About Treatment For Enamel Wear And Tear
Through treatment for teeth that are worn down and less attractive, you can regain confidence in a smile that looks healthier and more youthful! This is one of several services we can provide to help make meaningful smile improvements. If you would like to find out more, reach out to Dr. Stubbs in West Allis, WI, by calling our practice at (414) 541-8250.