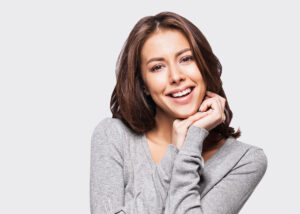 If you want to do something about smile flaws that make you self-conscious, you can find that several beneficial services are available to you. Our West Allis, WI dental office is here to help when you want to make changes to the way you look. What you might not realize is that you can actually take on several problems at one time when you decide to undergo treatment with porcelain veneers. Through this single procedure, we can take on trouble with teeth that are misshapen, misaligned, discolored, or damaged. Because of this, we can help you revitalize your confidence by restoring your smile to an earlier, more attractive state, or by taking on flaws that have always made you unhappy with your appearance.
Are You Currently Unhappy With Your Smile?
There are many issues that rob people of confidence in the way they look whenever they smile. Problems with our teeth tend to feel pronounced, as our smiles tend to be among the first of our features that others notice. That means you can feel more attention on a minor issue, like a chipped tooth, dental discoloration, or poor spacing, even if the issues themselves are relatively slight. The good news is that cosmetic dentistry helps in these situations, and the right procedure can do so while only requiring limited changes to your tooth structure.
Arranging Cosmetic Treatment With Porcelain Veneers
Through treatment with porcelain veneers, there are many concerns we can help patients resolve. The placement of these restorations can hide dental discoloration, even when blemishes are linked to internal problems and not external stains. Their presence will also effectively hide damage to your enamel, and they can change the shape or size of a tooth that look out of place. You can receive them after just two visits, which means you can be closer to completing a list of desired improvements than you realize!
What Other Cosmetic Services Are Available To You?
Through different dental services, we can help you take on different problems with your appearance that have made you unhappy. Clear aligners provide us with a discreet means of moving teeth that are out of position. Through teeth whitening treatment, we can help you fight the enamel stains that have made you unhappy with how you look.
Talk To Your West Allis, WI Dentist About Treatment With Veneers!
Are you tired of looking at your smile and finding your eye drawn to certain flaws with your appearance? If so, our practice is prepared to help! Porcelain veneers make it possible for us to take on many different issues with the way that you look. This one procedure can have lasting benefits, and it can be completed in just two appointments at our office. If you would like to find out more, please contact Dr. Stubbs in West Allis, WI, by calling (414) 541-8250.