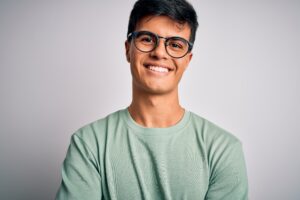 When worsening teeth stains rob a person of their confident smile, they can turn to different teeth whitening treatment options that are readily available to them. Your local grocery store or pharmacy can provide multiple products that offer help with discoloration, but they can have less than impressive results when you use them. To take on this issue in a way that delivers better results, talk to your West Allis, WI dentist's office about professional whitening services. Through this cosmetic service, we can resolve problems with discoloration that have made you unhappy with the way you look. Because you can take home your customized treatment and use it at your convenience, you can still enjoy an approach to care that fits your schedule.
How Bothered Are You By Teeth Stains?
If you have unwelcome teeth stains that dull your smile, it can be hard to maintain any real confidence in your appearance. There are many people who have some issues with this problem—unfortunately, it can be tough to completely avoid all of the products that are capable of leaving behind stains. However, when your smile is several shades duller than it used to be, you can feel a sharp discomfort at the thought of smiling for a picture or revealing too much of your teeth in a social setting. Rather than continue to live with doubts about your appearance, you can fight discoloration by taking home a professional teeth whitening kit!
Picking Up A Professional Whitening Treatment
Through the use of a professional teeth whitening treatment kit, you can resolve problems with enamel discoloration, and you can do so at your convenience, making it easier to commit to care. A customized kit will be prepared for your personal use. The kits that we send patients home with include advanced bleaching gels as well as trays to make their application easier. Daily sessions that last around thirty to forty-five minutes can be all you need to gradually improve your appearance and show off stunning overall improvements!
Learn What Else Your Dentist Can Do About Your Smile
There are multiple cosmetic procedures that we are ready to discuss with our patients. For some, another approach can be necessary for discoloration, as they can require help with internal problems. To hide blemishes and changes to your tooth structure that make your smile look less attractive, we can discuss care with porcelain veneers. These restorations can also help you when you want to address dental damage, misshapen teeth, and other problems that can affect your appearance.
Talk To Your West Allis, WI Dentist About Professional Whitening Services
Our practice is happy to help when patients express concerns about dental discoloration. To find out what we can do for you, please contact Dr. Stubbs in West Allis, WI, by calling (414) 541-8250.