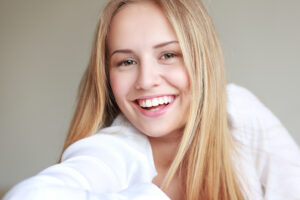 As time passes, many people gradually lose confidence in their smiles because their teeth keep picking up stains from different foods and drinks. While good oral hygiene can help with this, the gradual acquisition of these enamel stains can start to rob you of a youthful and attractive appearance. Dealing with this on your own can prove difficult, as store bought whitening kits can only provide limited benefits. Instead, talk to your West Allis, WI dentist about taking home a personalized teeth whitening kit. By doing so, you can enjoy a convenient solution for improving your smile that offers more significant results!
Have Teeth Stains Taken Your Confidence In Your Smile?
It can be tough to keep track of all the dark or color-rich products that you eat or drink, which means it can be tough to keep up with the different threats to your enamel color. As time passes, these items can dull your smile and make it look less attractive, and create the impression that your teeth are less healthy. Store bought whitening products can be easy to find, but they can prove to only offer limited benefits, as they can lack the potency to deal with particles that have gathered below the surface of your enamel. What you can do to more effectively treat this issue is pick up a personalized whitening kit prepared by your dentist!
Taking Home Your Personalized Whitening Treatment
By taking home a personalized teeth whitening kit, you can take home the means to noticeably improve your smile! The kits that we provide contain stronger, peroxide-based agents that can brighten enamel. They also include customized trays that help you apply these agents. Following the instructions that your dentist gives you to perform daily treatments will help you see increasing benefits from this service. At the end of your applications, you can marvel how your smile has changed!
Reviewing Additional Options For Improving Your Appearance
Sometimes, patients need to do something about intrinsic discoloration, problems within the tooth structure, and not with enamel stains. In other cases, they can have goals that are broader than just an intention to make their smile whiter. In these situations, we can recommend treatment with porcelain veneers. This is a solution that will help you cover up many different flaws. Because these restorations are made to last for many years, it also provides a long-term means of improving the way you look.
Talk To Your West Allis, WI Dentist About Improving Your Smile
Through the right cosmetic service, you can enjoy remarkable smile improvements! Our office is happy to offer you treatment in the form of a whitening kit that you can take home and use at your convenience. If you would like to find out more, then contact Dr. Stubbs in West Allis, WI, by calling (414) 541-8250.