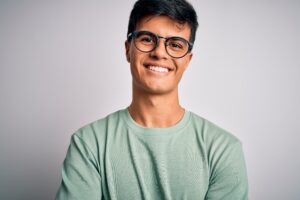 When you no longer have confidence in your smile, it can be difficult to project any kind of confidence, as you can find yourself focused on hiding your teeth from view in social and professional situations. You can also feel uncomfortable when taking pictures, as you can find yourself preoccupied with embarrassment over dental discoloration or damage. Your West Allis, WI dentist's office is prepared to help if you want to take on problems with the way you look. Through the use of porcelain veneers, we can carefully cover flaws that affect the shape, size, and color of your smile.
Are You Tired Of Feeling So Self-Conscious About Your Smile?
For some people, a smile that used to be bright and free of conspicuous flaws can become unsightly enough to cause serious discomfort. Others will have embarrassment over issues with tooth shape, size, and alignment that have always affected how they feel about the way they look. The good news is that with the right procedure, you can take on the issues that you have while still preserving a natural appearance. The coverage from porcelain veneers hides discoloration, problems with wear and tear, and even issues with the shapes and sizes of teeth that look awkward or out of place.
Discussing The Positive Impact Of Porcelain Veneers
When you start to look into cosmetic dental work, you can find that porcelain veneers are effective for treating many different issues. They can make teeth appear brighter, more symmetrical, and generally more attractive. When in position, they manage to hide both naturally occurring flaws and the kind of problems that form and worsen over time. We should note that some issues with damage, or problems that affect your bite function along with your smile, could call for the placement of dental crowns instead of veneers.
What If I Want To Take On Problems With Several Teeth?
If you feel that you have ambitious goals for your smile improvement, we can talk to you about fully taking them on. Because we are ready to assist patients with full-mouth cases for cosmetic treatment, we are ready to work with you to make sure that all of your worries about your appearance are resolved! Because veneers are able to do so much through their placement, you can find that the right services take less time to plan and execute than you think possible.
Talk To Your West Allis, WI Dentist About Treatment With Veneers
When you want to make changes to the way you look when you smile, know that porcelain veneers are available to you. We can recommend them under many different circumstances, and we can see to it that they deliver outstanding and long-lasting benefits! If you would like more information, please contact your West Allis, WI, dentist, Dr. Stubbs, by calling 414.541.8250.