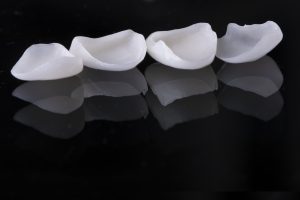 Each of our porcelain veneers will be hand-crafted for your smile, ensuring a lifelike appearance and a balanced bite. We use them to address a wide array of cosmetic issues, from permanent stains to unsightly gaps between teeth. In today's blog, your West Allis, WI, dentist will discuss how we craft and place our cosmetic restorations.
Creating Your Hand-Crafted Restorations
How exactly will we craft your custom restorations? To begin, we will take a close look at your smile to see if this is the best choice for correcting your cosmetic issues. If so, we will administer a numbing agent and then remove a thin layer of enamel from the outside of the tooth. Next, we take detailed images of the tooth or teeth with digital technology. The images and measurements will be used in a lab setting to design and craft the finished product. Each veneer is a thin shell or porcelain. The material is strong and translucent like tooth enamel. The material is shaded to blend with the rest of your smile, and will be able to absorb daily bite forces and pressure.
Placement
When your custom veneer is ready, you will return to the office so we can place it with a powerful bonding agent. The veneers cover the front and side of the tooth, instantly changing the appearance. The teeth we attach them to will still be visible to issues like tooth decay and gum disease, so routine care is necessary to keep the restorations strong and beautiful, and ensure they can last for years to come. You should brush and floss daily, eat a healthier diet, or even attend checkup and cleaning visits every six months. These actions help protect your entire smile, and keep it bright!
Cosmetic Benefits
The cosmetic benefits include the ability to mask permanent teeth stains, which could stand up to traditional teeth whitening measures. Treatment could also mask unsightly gaps and black triangle spaces between your teeth, and lengthen worn down teeth too. We could repair cracked or chipped teeth, and correct malformed or misshapen teeth too. Placement could also correct the appearance of misalignment without the use of braces or aligners. In as little as two visits, you could have a completely transformed smile! If you have any questions about how we create and place porcelain veneers, or about any of our other professional cosmetic treatment options, then contact our team today to learn more. A stunning smile is possible!
Talk To Your West Allis, WI Dentist About Cosmetic Dentistry
When you have multiple cosmetic issues you would like corrected, then you may benefit from our lifelike porcelain veneers. To schedule your next visit with us, call our West Allis, WI dentist's office at 414.541.8250!