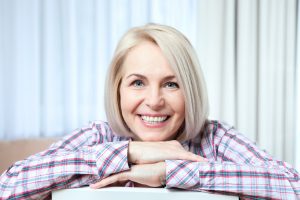 When a dental problem becomes too serious, it can take away your dentist's options when it comes to restoring your tooth's health. In a situation like this, we can recommend an extraction, an important step in a larger plan to fully restore your smile. Your West Allis, WI dentist can safely extract your tooth, which leaves space where you can receive a lifelike prosthetic restoration. With your appliance in place, you regain your complete smile, and you also regain important bite support. We can shorten the time you spend with a smile gap by using a special treatment to strengthen your jawbone after your extraction.
Why It Is Sometimes Necessary To Extract Unhealthy Teeth
Our goal during restorative dental work is to fully address dental problems through the most conservative services possible. In the event that you have an issue with tooth decay, physical damage to your enamel, or any other issue, we will look to see how a restoration can protect it and prevent complications. Unfortunately, some problems are so serious that we simply do not have a way to address them without removing a problem tooth. In a situation like this, we can take care of you to make sure the process fully restores your oral health. With an implant-held restoration, you can enjoy functional support and oral health benefits as well as the restoration of your complete smile.
Planning Your Tooth Extraction And Replacement
A careful tooth extraction will remove an infected or injured tooth without making problems for neighboring teeth. As part of our process for tooth extraction, we use a special material to encourage your jawbone tissues to recover in less time, which is how we can move up your timeline for receiving a permanent dental restoration. A dental implant can hold your replacement tooth with enough stability to provide meaningful improvements to your bite function and effectively allow you to maintain your natural jaw movements.
Regular Dental Exams Help You Avoid Oral Health Complications
Regular dental exams help you avoid the kinds of problems that might lead to an extraction and replacement. Every time you see your dentist, you receive helpful feedback about your oral health. That can mean receiving timely treatment for tooth decay so that a problem does not worsen, so you do not encounter the risk of needing an extraction.
Talk To Your West Allis, WI Dentist About Removing And Replacing A Problem Tooth
When it is necessary to do so, our practice can safely remove an unhealthy tooth and make plans to restore it with a lifelike restoration. Stubbs Family Dentistry provides a range of services; when you take advantage of our routine care, we can identify problems and treat them before they grow serious enough to require more involved care. For more information, please contact your West Allis, WI, dentist, Dr. Stubbs, by calling 414.541.8250.