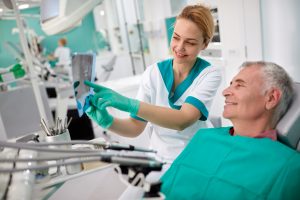 As hard as it may be to hear that you need a tooth extracted, leaving a serious issue with your smile untreated can have more consequences than you realize. Putting off your extraction means spending more time in pain. It also makes you vulnerable to spreading bacteria that can create infection issues beyond your tooth. At our West Allis, WI dentist's office, we provide extractions that are followed by treatments to prepare you for prosthetic treatment at the appropriate time. Being able to smoothly transition from extraction to restoration means spending less time with an incomplete smile, something that can make people feel self-conscious.
Why It May Be Necessary To Extract Your Unhealthy Tooth
If you do not schedule the appropriate restorative dental work in time, your tooth's health can deteriorate so much that you have nothing left to do but have it extracted. A tooth extraction can sound intimidating, but it is something we can do safely to stop a worsening oral health issue. Once this is done, we can take the extra step of providing care to stimulate the jawbone tissues and keep them healthy. This can prevent complications that could later interfere with your prosthetic treatment.
Discussing Plans To Replace Your Lost Tooth
By replacing the tooth that you previously lost, you recover more than just a complete smile. A prosthetic tooth will help you bite and chew with more comfort, and it can prevent you from experiencing difficulties with the way you speak. Its presence also helps you keep neighboring teeth from shifting out of place or loosening. Many people will have a dental implant put in place to hold a restoration – this approach keeps your prosthetic secure without disrupting neighboring teeth, and it will help preserve the strength and health of your jawbone over time.
Avoiding Future Oral Health Difficulties
Regular dental exams provide important early warnings about problems with your smile that require treatment. After a cavity or injury is identified, we can make plans to address the matter with the most conservative solution possible. This may call for the placement of a dental filling or dental crown. These treatments modify the tooth structure but keep the tooth itself in place!
Talk To Your West Allis, WI Dentist About Your Tooth Extraction
Hopefully, you will never have to go through the process of having a tooth removed and replaced. If you do, our practice is here to help. Dr. Stubbs can perform the procedure carefully, then take care to protect the jawbone tissues to help you recover. Then, we can make plans with you so that your full smile can be restored! To find out more about our practice and services, call our West Allis, WI dentist's office at 414.541.8250!