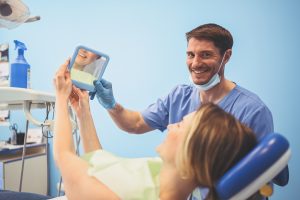 Cavity treatments do the important work of both removing decayed tissues and restoring teeth so that you can continue to bite and chew without problems. At our West Allis, WI dentist's office, we can make sure that your procedure provides protection that you can count on for many years. We can also see to it that your restorative work will not hurt the quality of your smile. We are able to reach these goals with durable, lifelike fillings and crowns that are provided at our practice. Remember that cavities can worsen before you even realize you need treatment. By scheduling dental exams on a regular basis, you can ensure problems are identified and treated early.
You May Have A Cavity Without Realizing It!
Is it really possible for you to be unaware that you have a cavity? As decay starts to do harm to your tooth, you may not recognize something is amiss. Unfortunately, because we are not able to stop the growth of cavities after they form with brushing and flossing efforts, decay can continue to spread, ultimately doing more permanent damage to your tooth structure. The good news is that we are ready to step in and help. If you see us for regular dental exams, we will check for early signs of decay at each appointment. Hopefully, there will be no issues that we have to address. However, if there is a concern, we can address it with a custom tooth filling.
Discussing Treatment For Tooth Decay
After a cavity forms, permanent damage to your enamel will occur. Because our enamel cannot heal on its own, you will need a permanent restoration to address this harm. It is often possible to cover the affected area with a dental filling. We use lifelike fillings that carefully cover the area where a cavity was present. After placement, you can feel relieved to see just how easy it is for your restoration to blend in and avoid detection!
What To Expect When A Dental Filling Is Not Enough Protection
It is not always possible to move forward with cavity treatment that relies on a dental filling. In this situation, we will use a dental crown to provide the needed protection. Crowns are also capable of imitating healthy enamel. This is because we can rely on materials like porcelain and ceramic to produce the restorations we place.
Talk To Your West Allis, WI Dentist's Office To Have Your Cavity Addressed
Hopefully, you will not have to find out for yourself what we can do for a cavity. However, if a problem does come up, it can be welcome news to hear that your dentist can help, and that treatment will avoid making changes to your smile. If you would like to find out more, contact your West Allis, WI, dentist, Dr. Stubbs, by calling 414.541.8250.