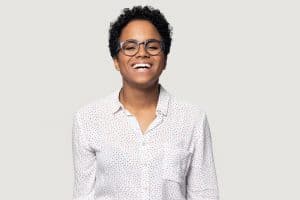 Do you have real confidence in your appearance, or do issues with your smile hold you back? Problems with dull, discolored teeth affect many people. The frustrating truth is that avoiding enamel stains is hard for many people, as there are many popular products that leave particles behind that dull the color of this substance. In order to fight the effects of accumulated stains, you can talk to your West Allis, WI dentist about teeth whitening treatment. A professional whitening treatment can remove stains that have resisted removal in the past, even if you already attempted to improve your smile by using a store bought whitening kit.
Do Teeth Stains Make You Want To Hide Your Smile?
Many people start to lose confidence in their smile as they start to notice how much the color of their teeth have changed over time. Why does this discoloration seem so hard to avoid? There are so many beverages that people enjoy, such as coffee, tea, red wine, and soda, as well as many foods, that leave particles behind on our enamel. The color of these products come from their chromogens or tannins, which can build up over time and dull your enamel. If this is something you are currently contending with, know that you may need a professional whitening treatment to deal with stains that are hard to address with over the counter treatments.
Is Teeth Whitening Treatment Right For You?
If you have longstanding concerns about dental discoloration, or if you are bothered by stains that have proven difficult to remove, talk with your dentist about teeth whitening treatment. This cosmetic dental procedure can produce exciting changes in the way you look by removing stains that have accumulated over time, and by brightening the tooth structure below the surface of your enamel. Once you commit to treatment, your dentist will make plans to restore your appearance with a custom whitening kit that you can use in the comfort of your own home!
Other Cosmetic Concerns To Watch Out For
Discoloration affects many people, but it is not the only problem that can hurt the quality of your smile! If you are bothered by dental damage, we can discuss other cosmetic services that can restore the shape, size, and general appearance of teeth. We should note that serious damage may make a person vulnerable to oral health issues, which means that restorative dental work could be recommended.
Talk To Your West Allis, WI Dentist About Whitening Treatment
Stubbs Family Dentistry is ready to address your concerns about dental discoloration! With your take-home whitening kit, you can fight discoloration that has worsened over time and enjoy an important boost in your smile confidence! To learn more, call our dentist's office in West Allis, WI at 414-541-8250.