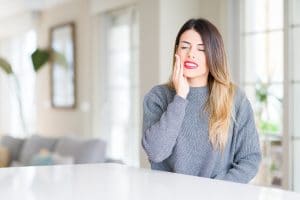 Dental pain can be an intrusive problem. Eating and speaking can become difficult, and you may have a difficult time concentrating on something other than your discomfort. For bouts of serious dental pain, or for injuries that cause dental damage, our West Allis, WI dentist's office is prepared to offer treatment. Our patients can depend on us in a situation that seems to call for emergency dental work. Being able to quickly see your dentist about a problem can effectively limit the time you spend in pain, and it can ensure that a dental problem is resolved before there are worrying complications.
Some Situations Can Make Urgent Dental Work A Priority
If your tooth is badly hurt in an accident, it can be important to see your dentist as soon as possible. A prompt treatment can limit your risk for complications, and take care of the pain you are experiencing. It can also lead to the restoration of your smile in less time. It can also be important to reach out to your dentist if you are experiencing significant pain, as it may be evidence of a badly infected tooth. A tooth infection can be serious enough to require a tooth extraction if it is not addressed in time, making prompt care a priority.
Can An Emergency Appointment Save A Knocked-Out Tooth?
Few dental emergencies can feel as urgent as one that involves the loss of a tooth. If a tooth is knocked loose, or knocked out, it may be possible to save it if treatment is provided in time. If the tooth cannot be secured in its socket, make sure to handle it carefully by its crown. To keep a dislodged tooth moist, travel with it in a small container of milk.
Urgent Treatment Can Deliver Long-Term Support
The work you receive on short notice can provide long-term support for your smile health. Treatment can consist of a root canal procedure to take care of any internal damage, as well as the placement of a permanent dental crown. Dental crowns are designed to remain in place over many years, and to offer up support when you bite and chew. Because crowns are custom-made, yours can be crafted so that it feels comfortable when in place, and so that it can offer lasting stability over the years.
Our West Allis, WI Dentist's Office Can Provide Urgent Care For Patients
At our West Allis, WI dentist's office, patients can come to us when they need to deal with an urgent dental problem. When taking on these issues, we can be sure to restore your tooth fully while also taking care to preserve your smile. To find out more about our practice, and what we can do for you, please call Stubbs Family Dentistry in West Allis, WI at 414-541-8250.