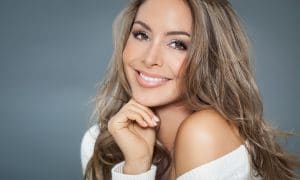 Who doesn't want a beautiful, symmetrical smile? When you feel good about the state of your smile, you're more likely to show it off, and that leads to increased confidence. You may not realize how easy it can be to give yourself an even, ideal smile. You don't necessarily need braces to create a perfectly symmetrical smile. Porcelain dental veneers can recreate the same effect without the lengthy treatment timetable. Most people are candidates for veneers, so before you give up on your perfect smile, it's time to explore this option.
Porcelain Veneers Are Bonded to the Surface of Your Teeth
What is a dental veneer? This cosmetic solution is composed of thin sheets of dental ceramic that can be bonded to the surfaces of your anterior teeth. The veneers are fabricated to appear lifelike in color and shape. Because your dentist can custom craft the veneers, they will look symmetrical and even, giving your smile a more homogeneous appearance in the end. Before placing the veneers, your dentist will likely remove a small layer of dental enamel from your teeth to ensure there is a smooth surface for attachment.
Veneers Account for a Variety of Cosmetic Defects
Dental veneers can create a more symmetrical, homogeneous smile, but they actually account for a variety of cosmetic defects. In addition to the overall shape and appearance of your smile, veneers can adjust for teeth that are a strange size or shape. Some patients have one or two teeth that are significantly smaller or larger than other teeth, and this can become distracting. Veneers regulate the appearance of the smile.
Veneers can also produce a whitening effect for the smile. While there are whitening treatments that can bleach the pigment from teeth to brighten your smile, they don't work for every patient. Some staining happens beneath the dental enamel, so the bleaching agent can't remove the source of the staining. Dental veneers can cover the staining and create a uniform whiteness to the teeth.
A Beautiful Smile Can Serve You for Life
If you feel self conscious about your smile, you may not even realize the degree to which this is holding you back. Social discomfort may make you less outgoing and less likely to be assertive. Cosmetic dentistry is about appearance, but it's an appearance that can serve you for life. You deserve to love your smile. Explore options with your dentist, like dental veneers, to see how you can get there.
Stubbs Family Dentistry Uses Porcelain Dental Veneers
It's time for you to unlock the smile of your dreams. Learn more about porcelain dental veneers by speaking to the team at Stubbs Family Dentistry. This team of cosmetic pros will help you choose a treatment that's right for you. Schedule a cosmetic consultation at Stubbs Family Dentistry in West Allis, WI by calling 414-541-8250.