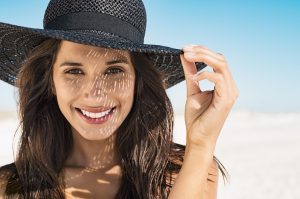 Valentine's Day is almost here, which means love is in the air! Whether or not you have a special someone in your life, everyone deserves to love their smile. A bright, beautiful smile helps you stand out in a room, and feel confident interacting with others. So, do you love your smile? If not, don't lose hope — cosmetic dentistry provides plenty of solutions. If you need to combat surface stains, uneven teeth, or the damage left by tooth decay, talk to your dentist. There is a cosmetic dentistry solution waiting for you.
If You Don't Love Your Smile, the First Step Is Understanding Why
Before you can improve the appearance of your smile, you need to understand what type of problem you're combating. Almost everyone deals with some degree of enamel staining. That clear, surface layer of your tooth can withstand a lot. However, it does pick up pigment left behind by the food and drink that you consume. This creates yellowing or discoloration.
Not everyone is born with perfectly proportioned teeth either. Your teeth may be different sizes, or some of your teeth may have a strange shape. These small imperfections can stand out and cause you to feel negatively about your smile.
Tooth decay can also leave unsightly wear on your teeth. If you've developed a cavity, it means you have a hole in your tooth. You need to fill that hole to restore the appearance of your smile. This is a job for the combined forces of restorative and cosmetic dentistry.
Working with Your Dentist, You Can Create a Custom Treatment Plan
Once you understand which problems you're trying to tackle, you can work with your dentist to create a cosmetic treatment plan. If you suffer from staining, teeth whitening is likely going to be your best option. Your dentist can actually provide you with professional-quality whitening treatment that typically delivers results well beyond what over-the-counter whitening treatments deliver. At-home whitening is a popular option because it's a treatment that you can perform on your own schedule.
Dental veneers can cover common appearance flaws in your teeth. If one of your teeth is a strange shape or size, a dental veneer can fix this problem. The veneer is a thin sheet of dental porcelain that is set on the surface of your tooth. This veneer can compensate for physical appearance flaws, including staining in some cases.
For Instances of Tooth Decay, You Want Your Restoration to Be Aesthetically Pleasing
If you need a cavity filled, you have different options for the material that your dentist uses. While metal fillings are the strongest, they also stand out in your smile. A tooth colored option — using dental porcelain or resin — provides a solution that is still strong, but blends in to the appearance of your tooth. For cases where you need a dental restoration, you can still find options that are aesthetically pleasing.
Flynn Dentistry Provides Cosmetic Care
If you want to improve the quality of your smile, talk to the team at Stubbs Family Dentistry. This professional staff can develop a treatment plan that works for your budget and schedule. Schedule a complimentary consultation by contacting Stubbs Family Dentistry in West Allis, WI at 414-541-8250.