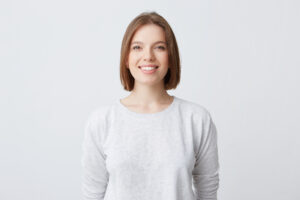 If you are looking for a higher quality smile, you are certainly not alone. Cosmetic dental concerns are common, and when you want to make a change, it is important to find a trusted team of dental experts in your cosmetic work. Whether you are looking to see a brighter smile free of your stubborn enamel stains, or if you want a more comprehensive smile makeover, our team is here for your oral health needs!
At our dental office in West Allis, WI, we can help you to achieve a more attractive smile in a variety of ways. Talk to our team about your specific smile needs, and learn about all of your cosmetic dental options. For those persistent enamel stains, we offer you a convenient whitening treatment that you can take with you and use from the comfort of your own home. In as little as two weeks, notice a real change in the quality of your smile, with freshly white teeth!
Discover The Convenience Of A Simple At-Home Whitening Treatment
Over time, the things that you eat and drink can leave lasting marks on your enamel. Even if you avoid artificial coloring, some of the most nutritious foods are full of vibrant colors that can stay on your teeth long after. If you have a significant event coming up, you might be searching for a way to lift these stubborn stains. Brighten up your smile before your family engagement or job interview with an at-home form of treatment for teeth whitening!
With this process, your dental team will give you a custom set of trays with your kit to take home. You will fill your custom trays with our gentle lifting agent, which effectively removes the stains from your enamel. This method of cosmetic dental treatment can help you to improve the look of your smile in as little as two weeks!
A More Even And Elegant Smile With Porcelain Veneers
If you are looking for a more comprehensive smile upgrade, talk to our team about the possibility of a porcelain veneer placement procedure. This technique uses a thin layer of ceramic or composite resin to create a new front surface of your tooth. Veneers can be a very versatile solution, as your skilled ceramicist will design yours custom for the needs of your smile. Talk to your dentist about all of the advantages of porcelain veneers for your specific smile.
Learn More About Cosmetic Dentistry With Our Team In West Allis, WI
When it is time to achieve a more attractive smile, talk to a team of oral health experts about your options. To learn more or to schedule your appointment, give us a call at Stubbs Family Dentistry at (414)541-8250 today!