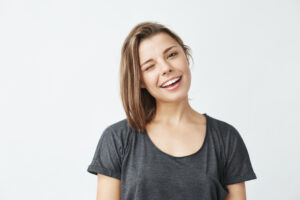 Have you recently cracked or broken a tooth? If you have experienced damage to one or more of your existing teeth, be sure to make the effort in seeking treatment quickly after the event. While you wait to renew your smile, bacteria can start to form within the soft tissue known as pulp, leading to a dangerous infection. This situation can lead to a serious toothache that requires a more extensive root canal treatment, so talk with your provider about ways to restore your damaged tooth.
Ask your dentist about the positive benefits of a dental crown at our office in West Allis, WI. This form of treatment uses a durable cap to renew a tooth that has been broken or cracked, and it can help you to avoid the need for an extraction. Talk to our team about whether a dental crown is right for your smile!
Schedule An Appointment With Your Dentist After You Break A Tooth
If you have experienced dental damage to one or more of your natural teeth, it may not seem like a significant issue at the time. Those small cracks or chips can become more of a problem if you let them wait, however. Your enamel provides a level of protection, blocking the spread of bacteria into the internal soft tissue known as your pulp. These harmful microorganisms can find their way inside even the smallest of cracks, and this can become a major problem for your dentistry.
When an infection takes hold within your pulp, it can lead to a seriously debilitating toothache. Even more, bacteria can spread into the bone matter of your jaw or even into your bloodstream. Avoid these complications by tending to your damaged tooth before infection has a chance to develop.
Achieve Lasting Repair With A Durable Dental Crown
One of the restorative methods that dentists use to renew your smile after a broken or otherwise damaged tooth is known as a dental crown. This method of repair uses a sturdy cap to contain and reinforce your natural tooth, giving you a strong new chewing surface. Be sure to speak with your dentist about the possibility of a new dental crown quickly after you break a tooth in order to restore your smile after injury. This way, you can work to prevent the infection of the area and save your tooth from further harm.
Learn More About Dental Crowns With Stubbs Family Dentistry In West Allis, WI
If you have recently damaged one of your natural teeth, talk to us about your restorative options. For more information on the benefits of dental crowns, call us at Stubbs Family Dentistry in West Allis, WI at (414)541-8250 and schedule your appointment!