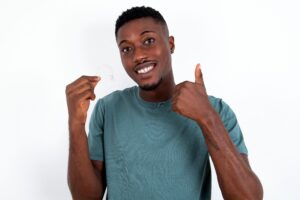 There are different smile problems that people choose to treat through cosmetic dental work. One problem you might have hesitated to treat is malocclusion, or poor spacing between teeth. Patients who worry that care will have to involve metal braces can feel reluctant to say something about their interest because they worry about how these appliances will affect them. At our West Allis, WI dentist's office, we can offer a different path to a straightened smile. Instead of using metal braces, we can recommend that you use a set of ClearCorrect® appliances! In doing so, you can see the changes that you want while you also enjoy a procedure that depends on aligners that are both hard to see and easy to remove.
Poor Teeth Spacing Can Hurt Your Confidence
Problems with the way your teeth are spaced can certainly make you reluctant to share your smile with the world. In addition to standing out on their own, the gaps and overlaps that are present are part of a larger concern about asymmetry, a feature that is important to how we look. Rather than assume you have to choose between either living with this issue or wearing metal braces, talk to your dentist about what clear aligners can do to help!
Planning Treatment With Custom Aligners
A treatment with clear aligners depends on a series of appliances that you receive as part of your treatment. Each one in the set that is given to you will provide part of the overall correction that you require. Wearing them can prove easier than you anticipate, as you will not have to worry about them drawing attention to themselves. If you worry that they will interfere with daily activities like eating or cleaning your teeth, you should know that you can simply take them out on your own at any time they might be in your way.
What Else Can You Do To Change Your Smile For The Better?
There are multiple cosmetic procedures we can recommend to someone who brings up concerns about their appearance. To help you see further improvements after your corrective work is completed, we can advise that you follow your adjustment with a teeth whitening treatment. Another approach involves the placement of porcelain veneers to make changes to your smile; by doing so, you can hide gaps and overlaps, and you can also take on issues with teeth that are discolored, damaged, or misshapen.
Talk To Your West Allis, WI Dentist About Treatment With Aligners
Treatment with ClearCorrect aligners can help you fix problems with your appearance that rob you of confidence in how you look. If you would like to find out more about this or another service that we offer, please reach out to Dr. Stubbs in West Allis, WI, by calling (414) 541-8250.