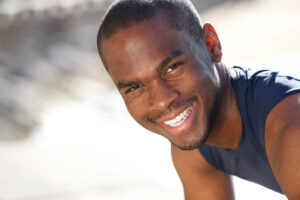 Have you grown embarrassed by your smile due to a buildup of stains? The accumulation of particles that dull your enamel can make you look older and less attractive, and the solutions you find at your grocery store or pharmacy can fail to provide meaningful help. Fortunately, you do not have to depend on over the counter care to take on problems with discoloration. Instead, you can talk to your West Allis, WI dentist about taking home a professional teeth whitening kit! By doing so, you can make effective use of materials that fight tougher stains so that you can see truly stunning improvements. We should note that we can also recommend helpful services to patients whose issues with discoloration are not related to external stains but internal problems.
Are You Ready To Make Real Changes To Your Smile?
If you want to make a real change to your dull, discolored smile, you should talk to your dentist about cosmetic dentistry. In doing so, you can gain access to materials that are able to fight tougher stains that have settled over time. The alternative—whitening treatments found at the grocery store or pharmacy that are sold over the counter—can prove less effective at fighting tougher stains. As a result, you can fail to see the improvements that you hoped for when you decided to make your smile brighter. Fortunately, you have the option of taking home a kit that gives you everything you need to see more significant changes while in the comfort of your home.
Bringing Home A Custom Teeth Whitening Kit
By bringing your teeth whitening kit home from our practice and beginning your daily treatments, you can fight the discoloration that has robbed you of confidence. The kits that we prepare contain advanced bleaching agents that are strong enough to remove particles that are hard to reach but still safe for you to use on your own. To make applying these materials easier, we include trays that are custom-made for patients.
In-Office Cosmetic Care Can Help You Show Off Exciting Improvements
Not everyone needs to focus on external stains to improve tooth color. For those who have issues within the tooth structure, we can discuss the advantages to placing porcelain veneers. These restorations can hide blemishes within teeth that affect how you look. They are also capable of correcting different problems with your smile stemming from issues like teeth that are misshapen, damaged, or out of alignment.
Talk To Your West Allis, WI Dentist About Using A Teeth Whitening Kit!
By taking home a professional teeth whitening kit, you can effectively deal with discoloration and make your smile more attractive! For more information on what we can provide to help you, please reach out to Dr. Stubbs in West Allis, WI, by calling (414) 541-8250.