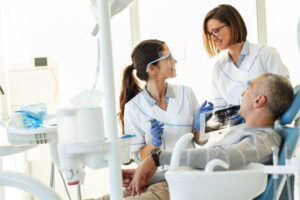 There are different reasons why people will postpone dental appointments. For those who suffer from feelings of anxiety around care, delays can become the norm even when they feel there is a need for restorative treatment. Putting off regular care can make you more likely to suffer problems with your dental health; holding off on a visit for an active problem can result in complications that threaten your well-being and demand more involved services. Our West Allis, WI dentist's office takes care to provide quality care while maintaining a friendly and welcoming atmosphere. For those who need assistance to feel at ease in the dentist's chair, we can provide the appropriate sedation to make treatment comfortable.
Do Feelings Of Unease About Smile Care Affect You?
Whether you are worried about an upcoming restorative procedure or generally feel uncomfortable with smile care, these negative feelings can make it hard to schedule treatment. Dental anxiety is a problem for many, one that can make booking important services more difficult. The good news is that there are different ways in which we can make your experience an easier and more comfortable one. One way we can support you is by creating the right environment to make treatment more comfortable. To further support you, we are happy to talk to you about dental sedation and its benefits.
Using Dental Sedation To Make Your Experience In The Dentist's Chair Easier
Different forms of dental sedation are available to make sure patients remain comfortable in the dentist's chair. That support can come from nitrous oxide, which is administered throughout the appointment. The effects of this gas dissipate shortly after it stops being provided, so you can have an easy time returning to your daily activities. If you need something stronger, we can provide an oral sedative to help you!
Consistent Smile Care Can Help You Avoid Issues That Require Restorative Dental Work
Remember that the more consistent you are with smile care at home and through regular dental exams, the less likely you are to require restorative dental work. We can offer guidance along with the in-office preventive care that keeps you safe from future harm. We can also provide a timely warning and treatment for a cavity before decay is serious enough to require more than a dental filling.
Talk To Your West Allis, WI Dentist About Enjoying A Comfortable Experience With Smile Care
Through consistent and comfortable smile care, you can maintain your health and appearance! If you have questions about dental sedation and its benefits, or if you have any other matters related to your health that you wish to discuss, please reach out to Dr. Stubbs in West Allis, WI, by calling (414) 541-8250.