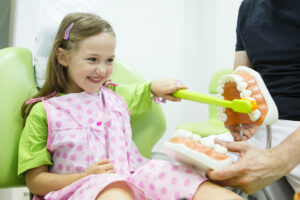 With the summer break taking kids out of school, you can have an easier time bringing your little ones in for their routine pediatric dental exams! At our West Allis, WI dentist's office, we are proud to support patients of all ages in matters of dental care. We can help children who are still new to the dentist's office, and we can provide continued support to make sure they grow up with healthy, confident smiles. You can use this time to do more than just make sure their oral health needs are being met—we are also here to help you keep up with your oral health through your own dental exams and cleanings!
Making Time For Smile Care While Kids Are Out Of School
Kids can stay busy throughout the school year, making dental appointments harder to arrange. However, the summertime can create more freedom to take on this and other importance matters. At pediatric dental visits, kids are checked for common threats like tooth decay, just as adults receive routine evaluations that warn about different threats. However, they also receive support that responds to the needs of their still-growing oral structures. We can look out for developmental issues like malocclusion (poor teeth spacing), and we can offer the kind of guidance that helps our younger patients take better care of their smiles on their own. For our youngest patients, we can adjust our priorities and make sure they feel at ease in the dentist's chair as they adjust to the new experience of in-office support.
We Provide Oral Health Care For Everyone In Your Family
Kids and adults can have different needs from their dentist. With that said, people of all ages should count on regular oral health checkups to keep them safe from threats to their well-being. Dr. Stubbs can meet with everyone in your household to provide important preventive services. We are also ready to help you take on matters that concern your oral health, along with issues you might have with your appearance. Whether you need to restart routine care after a break, want to discuss an active concern, or want to see what cosmetic dentistry can do for you, we are ready to help!
Talk To Your West Allis, WI Dentist About Scheduling Smile Care For Your Kids!
Through consistent smile care at the dentist's office, kids enjoy important protection, and they can have an easier time learning to protect their teeth and gums on their own. We offer support to households throughout the year, but we know summer can be one of the most convenient times to schedule pediatric services and are ready to take care of your child! If you have questions or wish to book an appointment, reach out to Dr. Stubbs in West Allis, WI, by calling (414) 541-8250.