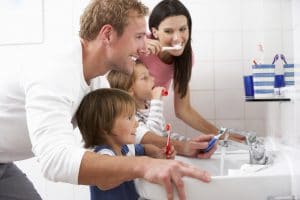 School will be back in session before you know it, and for most families that means major changes to their schedules. Chances are, your kids will soon be going to bed and getting up much earlier. That may also make it feel like you have less time in the day. To help ease them into a school-year schedule, there are a few steps you can take now. Some of them also happen to protect their precious smiles. If you want your kids to enjoy great oral health this year, and beyond, make sure you're helping them develop good habits, now, before life gets any busier. Remember, too, that you should be setting a good general dental example for the whole family.
Are They Brushing and Flossing?
Most parents are diligent about making sure their kids brush their teeth twice a day, but a lot less stringent about seeing that they floss. This could be because only approximately 30 percent of adults claim to floss regularly, themselves.
If you fall into this category, it's important t set a good example for your kids by adding flossing to your daily routine, and ensuring they do the same. Once you all have mastered the technique, it should only add a few minutes to your morning (or nightly) routine. That said, it can help reduce your risk of developing both cavities and gum disease.
Make Regular Dental Visits a Family Priority
Even with healthy habits at-home, you and your kids should still the dentist at least twice a year for regular cleanings and checkups. These visits are essential to avoiding cavities and other dental problems that would require restorative dentistry, because they allow the dentist to remove any calcified tartar buildup.
Make Sure Your Smile Is Getting Preventive Treatment
Dr. Stubbs can help protect your smile from dental problems, through regular checkups and cleanings. To schedule a checkup with Michael E. Flynn, DDS, call our office at 414-541-8250. Our office gladly welcomes patients from West Allis, Brookfield, Wauwatosa, and all Western Milwaukee communities.