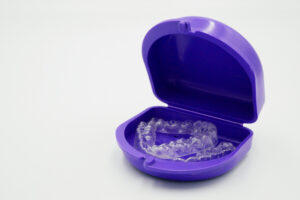 Through the right cosmetic procedure, you can see real changes to your smile. What might surprise you is how effective a treatment can be at making those changes while having little impact on your life. Our West Allis, WI dentist's office can offer exciting cosmetic results through treatment with Reveal Clear Aligners, a series of appliances that can gradually move teeth that are out of position. With this alternative to traditional orthodontic work, you can close any gaps between teeth, fix overlaps, and generally make your smile more symmetrical. This is one of several cosmetic dental procedures that we can discuss with you if you are ready to do something about the way your smile looks.
Do You Have A Problem With Poorly Aligned Teeth?
Poorly aligned teeth affect many people to different degrees, but not everyone who has this problem has to depend on metal braces. What you can do instead is plan a procedure with clear aligners, which make treatment discreet and easy to fit into your daily life. By making the choice to pursue care, we can help you do something about awkward gaps and overlaps, leading to esthetic improvements as well as benefits for your oral health!
Planning Treatment With Clear Aligners
We offer our patients the option to fix malocclusion with Reveal Clear Aligners, a set of appliances that will gradually move teeth that are not in the right positions. As you make your adjustments, you can feel better about the way you look, and you can find that the corrective appliances you receive have little effect on your daily life. To make sure you see the right results and feel as comfortable as possible with your aligners, your smile will be carefully evaluated and measured before your treatment officially starts.
We Can Review Your Options For Cosmetic Treatment
There are more solutions available than just treatment to straighten uneven teeth. One thing to consider is following corrective work with a teeth whitening procedure, which can help you show off significant overall improvements. Another option is care with porcelain veneers. Through the use of custom veneers, we can cover up flaws in just two appointments. These restorations are able to hide embarrassing spacing issues as well as problems with dental damage, discoloration, and more.
Talk To Stubbs Family Dentistry About Treatment With Clear Aligners!
Through treatment with custom Reveal Clear Aligners, we can help you fix embarrassing smile flaws that are caused by poor teeth spacing. We can meet with you to discuss this and other services if you are ready to learn how you can improve the way you look. If you would like to find out more, please contact Dr. Stubbs in West Allis, WI, by calling (414) 541-8250.