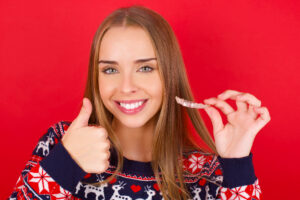 Is now a good time to look into fixing problems with poor teeth spacing? If you explore your alternatives to orthodontic treatment with metal braces, you can feel more confident in moving forward with treatment! Our West Allis, WI dentist's office can provide a solution in the form of Reveal Clear Aligners. With these appliances, we can take care of concerns about teeth that are not evenly aligned without asking you to wear fixed, visible appliances. Instead, you will rely on a set of removable aligners that are made with a clear material. At the end of your adjustment, you can feel happier with your smile and also have welcome oral health benefits!
How Has The Alignment Of Your Smile Hurt Your Overall Appearance?
If you have problems with the way that your teeth are spaced, you can feel bothered by your smile because it is not symmetrical, and because gaps and overlaps draw unwanted attention. When these problems are visible, it can be difficult to feel comfortable with the way you look, but you can hesitate to start treatment if you expect you will need metal braces. What you can do instead is wear a set of clear aligners that are capable of making gradual corrections to teeth that are unevenly spaced.
Beginning Treatment With Reveal Clear Aligners
Reveal Clear Aligners give you an orthodontic treatment option that is discreet and easy to fit into your daily routine. These aligners are specially designed to both fit securely over teeth and minimize their appearance. In other words, you can wear yours throughout the day without worrying about how they look, and you can count on them to reliably make your smile straighter as you move from one aligner to the next.
What Else Can Your Dentist Do To Improve Your Smile?
We provide multiple cosmetic services, which helps us to tailor treatments so that patients have their desired outcomes. With porcelain veneers, we can take on concerns about the shape, size, spacing, and color of teeth. If you want to focus specifically on discoloration, we can recommend that you undergo a professional teeth whitening procedure.
Talk To Your West Allis, WI Dentist About Using Reveal Clear Aligners
With Reveal Clear Aligners, we can help our patients take on problems with the way you look if you have concerns about your teeth spacing. This treatment option gives you the opportunity to move teeth that are too far apart, or those that are too close together, so that you have a more symmetrical and attractive smile. We are happy to discuss this and other services that can improve on how you look. If you would like to find out more, then contact Dr. Stubbs in West Allis, WI, by calling (414) 541-8250.