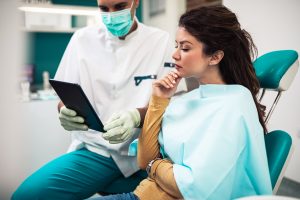 Periodontal problems can take a more significant toll on your smile, and your overall health, than you might realize. As an infection worsens, it can create pockets between teeth and gums, destroy tissues that help keep teeth in place, and even make you vulnerable to general health issues. Our West Allis, WI dentist's office is prepared to help you with this problem. We provide advanced services that make care effective, as well as surprisingly conservative! Our approach to care includes treatments with lasers that minimize tissue damage and shorten recovery periods. We also provide ongoing maintenance that helps those with advanced gum disease control an infection and avoid complications.
Periodontal Problems Can Have Significant Consequences
How concerned should you be if you have problems with gum disease? Without the proper management, an infection can take a big toll. Bacteria that cause inflammation can create problems when they move to other parts of your body, and connections between gum disease and problems like Alzheimer's disease and depression have been identified. When the appropriate care takes place, gingivitis can be reversed, but periodontitis can create lasting difficulties. After an assessment, we can review your options for treatment. This can mean the start of maintenance appointments, or it can call for more involved care. Our support includes conservative oral surgery that can tend to serious issues while shortening recovery periods and discomfort after treatment.
We Offer Multiple Treatment Options To Help Control Gum Disease
We provide a number of effective solutions for problems with periodontitis. When it is called for, we can recommend a conservative gingival flap surgery, which can treat an infection while also dealing with sensitivity issues that it can cause. We also offer laser-assisted treatments that carefully remove bacteria and diseased gums. To fight the buildup of bacteria in deeper pockets between teeth and gums, we can administer a special antibiotic gel powder to help with your recovery and protection.
Starting Regular Periodontal Maintenance
While periodontitis may be a long-term concern, it is one that we can control with the right approach to preventive care. Rather than bring you in for regular semiannual dental exams and cleanings, we can provide supportive periodontal maintenance every three or four months. This assistance can stop bacteria accumulation from causing new problems with periodontal pockets, and the other forms of damage that unhealthy microbes can cause.
Discuss Periodontal Treatment At Our West Allis, WI Dentist's Office!
Through the right treatment solutions, Stubbs Family Dentistry can assist patients affected by periodontitis. The right support will help you control your risk for future problems, and we can recommend procedures to address damage already done to your gums. To find out more, contact your West Allis, WI, dentist, Dr. Stubbs, by calling 414.541.8250.