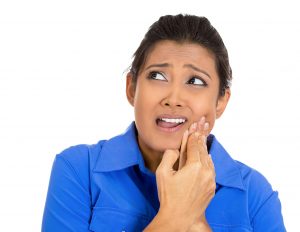 While our teeth are certainly strong, they are not completely safe against damage. If you are not careful, or if you have the misfortunate of suffering a physical injury, you can crack your enamel, and that can lead to serious oral health concerns. A person who cracks a tooth and goes without treatment can go on to experience problems with an infection, and face the real risk of losing that tooth! Fortunately, a custom dental crown can protect you against complications from an injury. Because a crown provided at our West Allis, WI dentist's office can both protect and imitate your tooth, you can enjoy cosmetic and oral health benefits from your restorative procedure.
A Cracked Tooth Is Not Something That You Want To Ignore
If you crack your tooth, you should try to see your dentist to discuss the problem as soon as you can. If you try to ignore the problem, or if you tell yourself it is something you can tend to "later," you can experience complications that cause discomfort and raise your risk for tooth loss. The sooner you see someone about the problem, the sooner you can regain your oral health, feel more comfortable when you bite and chew, and generally avoid the long-term benefits of restorative dental work.
Receiving Your Custom Dental Crown
A dental crown can take care of your tooth if it is chipped, cracked, or otherwise broken. It can also help you deal with a potential problem with advanced decay. There are several reasons why you benefit from receiving a crown that is custom-made. By making sure that your restoration is just the right shape and size, your dentist can ensure that it fits properly, looks natural, and effectively supports your bite function. If you are undergoing treatment for a front tooth, we can recommend a crown made from a lifelike material like porcelain or zirconia.
Why You Might Need A Root Canal Before You Receive Your Crown
Before you receive your dental crown, it is important that any issues within your tooth structure be addressed. If an infection forms after your injury, or if you suffered internal damage, a root canal procedure will be appropriate. We can provide this service in order to stop the spread of bacteria and prevent further issues with pain or sensitivity.
Talk To Your West Allis, WI Dentist About Restoring Your Cracked Tooth
Stubbs Family Dentistry is prepared to help patients in need of restorative dental work. If you need to see us about a chipped, cracked, or otherwise damaged tooth, we can provide the appropriate treatment and make sure that you have a crown that provides long-term benefits. To find out more, call our West Allis, WI dentist's office at 414.541.8250!