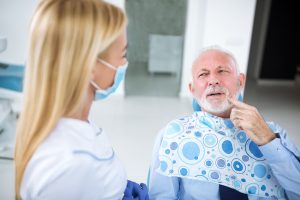 By putting off treatment to discuss tooth pain, you can let a real problem go unaddressed, and that can lead to difficult complications. You can avoid problems when you combine good daily behaviors with routine checkups at your dentist's office. Our West Allis, WI dentist's office can provide ongoing support, but remember that we are ready to see you if you worry that something may be wrong. If you struggle with tooth pain, it can be a warning about an infection that needs to be addressed. Root canal therapy can remove bacteria and damaged tissues within your tooth structure and stop an infection from worsening and putting you at risk for tooth loss!
Is Tooth Pain Really Going To Make A Root Canal Necessary?
If you are starting to worry about tooth pain, you should let your dentist know what is happening, and determine what procedure is required to stop your discomfort. A short period of discomfort can be alarming, but it can be connected to something other than poor oral health. However, you should worry if your tooth continues to hurt. Another sign of trouble is if the pain is severe – an issue that can certainly be hard to ignore! When persistent or serious discomfort affect you, a visit to your dentist's office is recommended.
Scheduling Your Restorative Dental Work
We can restore your oral health if we find that there is an active problem with your tooth. When pain brings you in to discuss treatment, we can determine how serious the problem is and recommend an appropriate response. Root canal therapy addresses problems within the tooth structure. Removing bacteria and unhealthy tissues will stop an infection from spreading, Once your work is completed, we can provide you with a custom crown to restore your tooth and protect it and preserve your bite.
Restoring Your Tooth When You Finish Treatment
We can complete your treatment by providing a custom crown after your root canal procedure. Your restoration is custom-made to ensure that it will stay healthy and continue to remain in good condition when you bite and chew. You can receive a crown that matches your enamel, which can prevent cosmetic changes at the end of your treatment.
Talk To Your West Allis, WI Dentist About Scheduling A Root Canal
A root canal procedure is capable of stopping an infection from causing you to experience continued pain. Through this procedure, we can also protect you from complications that can lead to tooth loss and other issues. To find out more about what we can do for you when you have a toothache, or if you have another concern about your oral health, call our West Allis, WI dentist's office at 414.541.8250!