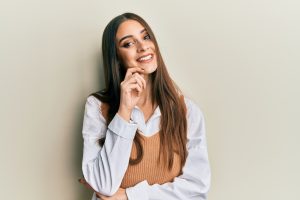 How do you feel about your smile today? Has your confidence waned over time? Have you always had some doubts about your appearance, and wished you could make improvements? For many different people with different smile concerns, veneers can be an effective cosmetic solution! Our West Allis, WI dentist's office is happy to meet with you to discuss the benefits of this or another treatment. What you can find is that with veneers, we are able to take on several issues at one time, which means we can give you a smile makeover with a single procedure we can complete in as little as two appointments!
What Veneers Do To Improve The Way You Look
How are veneers capable of taking on several problems at one time? These thin, porcelain shells are designed to completely cover the fronts of teeth. When a restoration is in place over your tooth, it can change its shape and size, hide discoloration, and even cover flaws caused by dental injuries or wear and tear. Because these shells only cover a small portion of your tooth structure, we can make these improvements while minimizing changes to your tooth structure.
Planning Your Procedure And Providing Your Restorations
When planning your treatment with porcelain veneers, it will be important for us to gather detailed measurements. By closely evaluating and measuring your teeth, we can make sure that your restorations are just the right shape and size to look natural and provide the desired improvements. At your initial visit, we will perform this review and also do minor preparatory work to make space for your veneers when they are ready. At your subsequent appointment, we can put your veneers in place and improve your smile!
Our Goal Is To Help You Smile With Confidence After Cosmetic Work
A cosmetic dental procedure should give you confidence in the way you look and help you put concerns about the shape, color, condition, or alignment of your smile behind you. We can recommend different services based on what issues you voice concerns over, and on how you would like to look after a procedure. We can review the benefits of a teeth whitening procedure, which can brighten your enamel. We may also discuss the benefits of restoring your smile with dental crowns. When problems that affect the way you look also affect your oral health, this approach can put troubles behind you!
Talk To Your West Allis, WI Dentist's Office About Cosmetic Care!
With the right cosmetic procedure, you can marvel at how your smile improves! Stubbs Family Dentistry is ready to help you show off changes that make you more comfortable with your appearance, and we can also help make sure any oral health issues caused by smile problems are resolved. To learn more, call our West Allis, WI dentist's office at 414.541.8250!