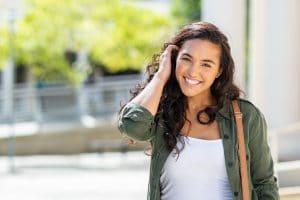 You know you would like to make changes to your smile, and you can even identify the specific issues that you would like to address. However, without an understanding of what cosmetic dentistry can really do for patients, it can be difficult to know what your options for care might be. At our West Allis, WI dentist's office, we provide free cosmetic consultation to patients who want to learn more about their treatment options. The right procedure can lead to a brighter smile, or target problems with the shape or size of teeth. In some cases, cosmetic treatment can offer a conservative alternative to restorative dental work for physical damage that affects your tooth structure.
Are You Currently Unhappy With Your Smile?
There are many issues that make people feel uncomfortable with the way they look. Problems like discoloration and dental wear and tear are issues that can grow over time, leading to a slow loss of confidence in your appearance. Other problems, like poor smile alignment or issues with tooth shape and size, can be issues people have had for an extended period of time. No matter how long you have felt self-conscious about the way you look, it can be a relief to know that cosmetic improvements are available, and that they can be more accessible than you expect!
Reviewing Your Options For Cosmetic Treatment
There are different services that we can offer patients who are affected by smile flaws. To directly address issues with discoloration, we can take care of your teeth with a professional whitening procedure. A professional treatment can remove the stains that store bought products are not able to address. For problems with the shape, size, or alignment of teeth, we can use porcelain veneers to make changes. Veneers are restorations that are bonded to your enamel. While this calls for some modifications to your tooth structure, this treatment leaves more of your enamel intact than work to place dental crowns.
Our Restorative Dental Services Can Help You Maintain Your Appearance
Because we offer dental fillings and dental crowns that match the look of your healthy enamel, we can take care of oral health issues while still preserving the way you look. This means that a problem with tooth decay or physical trauma will not leave your smile permanently altered! To stay informed about your oral health and lower your risk for these issues, stay consistent with regular dental exams. At these appointments, we can identify and address problems while they are still small.
Arrange A Cosmetic Consultation At Your West Allis, WI Dentist's Office
At a cosmetic consultation, you can learn what your options are for serious smile improvement! To find out more about our services, or to set up a consultation, contact Stubbs Family Dentistry in West Allis, WI at 414-541-8250.