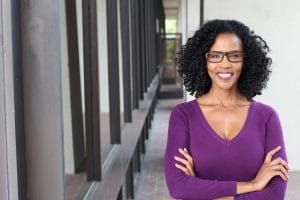 Through the replacement of lost or extracted teeth with dental implant-held restorations, your West Allis, WI dentist can address more than just the cosmetic problems associated with tooth loss. People who experience tooth loss face real oral health concerns, concerns that can worsen over time if they do not undergo prosthetic treatment. Your risk for losing more teeth will go up when you have a gap in your smile, and your inability to comfortably bite and chew can lead to problems with chronic jaw pain. Fortunately, dental implants make improvements to your bite function, support neighboring teeth, and even help preserve the health of your jawbone while giving you back your full smile!
Tooth Loss Can Change More Than Just The Way You Look
Tooth loss can certainly have an effect on the way a person looks. If a gap is present in your smile, it can cause you embarrassment, as it can make you look older and less healthy. With that said, there are other problems that stem from tooth loss you should know about. Without the support of their neighbor, the teeth on both sides of a gap are more likely to be lost. The pressure from biting and chewing is more likely to make them shift, and that can loosen them over time. If you try to avoid putting any pressure on the area where a tooth is missing, you can unknowingly cause problems for your bite function that lead to chronic aches and pains related to TMJ disorder.
Arranging Restorative Work That Includes Implant Placement And Restoration
When a patient has suffered tooth loss, or when the appropriate restorative dental work for them involves tooth extraction, we can discuss the benefits of having a dental implant placed and restored. Implants act like prosthetic roots for restorations that act as replacements for lost teeth. When they are present and holding a prosthetic, it can be easier for you to bite, chew, and speak in a way that feels natural. When you do this, you can actually stimulate your jawbone with the implant, which sends important signals to your body to keep nutrients flowing to the bone. Tooth loss that is not addressed through implant dentistry can lead to the loss of jawbone density over time, which can hurt your oral health and appearance.
Maintaining Your Smile After Prosthetic Dental Work
If you have undergone prosthetic dental work, you should feel confident that your implant-held restoration is secure, dependable, and in good condition. While at-home care will be important for maintaining your restoration, you should also take care of your restored smile by scheduling regular dental exams. At these appointments, your dentist can check on your restoration along with your natural teeth and alert you to any early warning signs of trouble.
Talk To Your West Allis, WI Dentist About Implant Dentistry
Stubbs Family Dentistry is ready to take care of patients who need to do something about missing teeth, or those who need treatment that will involve tooth extraction. To find out how we can help you, call our dentist's office in West Allis, WI at 414-541-8250.