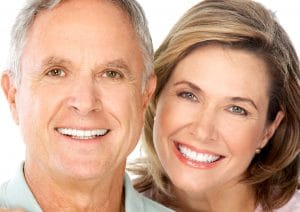 What makes a prosthetic dental restoration especially beneficial to a person? The right look matters, as a lifelike appliance can make you more confident in your smile. It is also important to make sure that a prosthetic is the ideal shape and size to fit comfortably. What you should know is that with the support of a dental implant – or, if necessary, with several implants – a restoration can actually provide support to make biting, chewing, and speaking easier! At our West Allis, WI dentist's office, we can talk with you about prosthetic dental work that includes the placement of dental implants to keep your restoration firmly in place. This support helps you feel more confident in your bite as well as your smile, and it can help by preserving the density and health of your jawbone.
How Much Support Can Dental Implants Really Provide?
With a dental implant to hold a restoration securely in position, it is possible to bite, chew, and speak with greater comfort. If you had to cut certain foods from your diet because they were difficult to eat, or if you have developed a stiff or sore jaw from awkwardly working around a gap in your smile, you can be glad to know that the restoration of your bite function can occur. With that said, the support from a dental implant helps with more than just your dental function. When you have an implant in position, it will stimulate the jawbone in the area where it is held. With your natural teeth, the stimulation from biting and chewing will send signals for nutrients to flow to the bone. This is the stimulation that implants imitate, making it possible to once again ensure that the bone is supported.
Discussing Implant Placement With Your Dentist
If you have recently lost a tooth, if you are tired of depending on a removable appliance, or if you have simply had to live with an incomplete smile for a period of time, set an appointment to discuss treatment with your dentist. During a free consultation to discuss a possible procedure, you can learn more about what this form of restorative dental work can do for you, and what the process of placing and restoring the implant will be like. If there are issues with your oral health that affect your candidacy, we can discuss different solutions to help you move forward with regaining your full smile!
Delaying Prosthetic Work Can Have Consequences
Going without implant support can lead to more wear and tear on your remaining teeth, which can lead to more issues with damage and dental decay over time. Putting off treatment also leaves teeth surrounding a gap in your smile vulnerable to shifting, or even being lost! These issues, as well as the gradual deterioration of the jawbone due to lack of stimulation, can create complications that affect your well-being before you finally make arrangements to receive an implant-held restoration.
Talk To Your West Allis, WI Dentist's Office About Work With Dental Implants
Are you ready to restore your complete smile with an implant-held prosthetic appliance? If so, please contact Stubbs Family Dentistry in West Allis, WI at 414-541-8250.