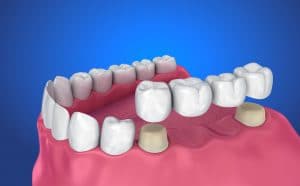 Tooth loss disrupts your smile in both a literal and figurative sense. When you lose one or more teeth, you have a physical gap in your smile. Missing teeth stand out in pictures and in face-to-face interactions. In a figurative sense, the trauma that accompanies tooth loss can lead to embarrassment and discomfort that prevents you from smiling. If tooth loss is causing you to recede in social situations, it's time to start smiling again with a dental bridge. Dental Bridges are dental prosthetics that can be used to replace a single tooth, or a series of missing teeth in your mouth.
A Dental Bridge Uses Your Healthy Teeth to Stay in Place
A dental bridge is comprised of two dental crowns and the replacement teeth that are filling in the gaps of your smile. The replacement teeth (also called "pontics") are obviously there to replace your missing teeth. The dental crowns are placed over the healthy natural teeth on either end of your missing teeth. The crowns hold the entire prosthetic in place, so having healthy, stable teeth on either side of the missing teeth is important. This arrangement can make dental bridges more stable than dentures, which often rely on adhesive to stay in place.
Dental Bridges Create an Esthetic Restoration of Your Smile
If you've been suffering through tooth loss for some time, you may not even fully realize what a difference a dental bridge could make. When you repair your smile, you won't feel like you have to hide it in social situations. You won't feel like you have to smile with your mouth closed in pictures. Dental bridges are fabricated with dental porcelain to match the appearance of natural teeth — both in shape and color. Your dental bridge can be treated specifically to blend in visually with the rest of your teeth.
Dental Bridges Also Allow You to Chew Food
In addition to creating a cosmetic improvement for your smile, dental bridges also have a functional purpose. Tooth loss can create pain, an increased risk for infection in your gums, and the inability to chew comfortably. By replacing missing teeth, a dental bridge allows you to chew food again. Because dental bridges don't have the same root structure as natural teeth, you may need to monitor what kinds of food you eat with your dental bridge (avoiding particularly hard or sticky foods), but your ability to eat what you like will be vastly improved.
Find Dental Bridge Options at Stubbs Family Dentistry
Everyone deserves to feel comfortable with their smile. If you're hiding your missing teeth in photos and social settings, then it's time to replace them. Prosthetic options, like a dental bridge, can replace what's missing and allow you to feel comfortable again. Learn more about dental bridges by contacting Stubbs Family Dentistry in West Allis, WI by calling 414-541-8250.