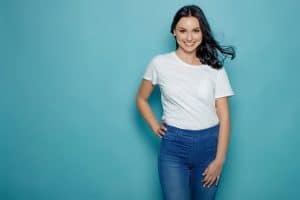 Almost everyone has something they'd like to change about their smile. Maybe you want a straighter appearance for your teeth. Maybe your teeth could be brighter, or more symmetrical. The thing that prevents most people from taking action to improve the appearance of their smile is concern over whether or not the treatment will work. A perfect smile sounds nice, but is it really achievable? When you work with a dentist that you trust, you can create a treatment plan to craft the perfect smile. Dental veneers are an option that can produce transformative results for your smile.
Dental Veneers Create a Stunning Esthetic for Your Smile
Dental veneers are thin shells of dental ceramic. They can be crafted to match the appearance of an ideal tooth surface. Your dentist can make you a single veneer, or a set of veneers that creates a beautiful, symmetrical smile. Your dentist will examine your teeth during a consultation to make sure that the veneers are fabricated to exact specifications in terms of color and shape. Then, you dentist will remove a very small layer of enamel from your tooth to create a smooth surface for the veneer to be bonded.
Dental Veneers Can Correct Many Cosmetic Issues
One of the best things about dental veneers is how many different cosmetic issues they can address. Dental veneers can be used to give you a straighter, more symmetrical smile. If you have teeth that have awkward edges or that don't look proportional to one another, dental veneers can correct this problem too. Dental veneers can even be used to give you a brighter smile, which can be helpful when it comes to treating stubborn stains, or stains that are intrinsic (they come from inside your tooth).
If You Want Transformative Results with One Treatment, Dental Veneers Are the Right Option
If you're looking for transformative cosmetic dentistry results that you can see after one treatment, dental veneers are an excellent option. Your dentist will need to measure and examine your teeth during an initial consultation, and then he or she can fabricate the veneers to meet precise specifications. Your dentist can typically place all of your dental veneers during one visit. That means you'll walk out of the office and enjoy your completely transformed smile right away.
Create a Cosmetic Dentistry Plan at Stubbs Family Dentistry
You won't start to see the incredible cosmetic benefits of dental veneers until you talk to your dentist. At Stubbs Family Dentistry, we'll listen to your cosmetic needs, timeline, and budget, and we'll create a plan for treatment that is individualized for you. Schedule your initial consultation by contacting Stubbs Family Dentistry in West Allis, WI at 414-541-8250.