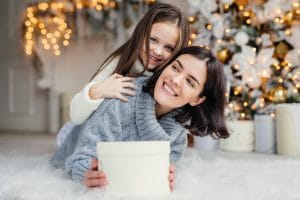 The holiday season is full of different traditions and celebrations for everyone. Great food, movies, time spent together — it truly is a wonderful time of year. No matter who you are or where you come from, almost certainly, the holiday season means plenty of pictures too. Everyone wants to capture those special moments you spend together with loved ones, and you want to make sure you're camera-ready when the time comes. A bright, beautiful smile stands out in photographs. Is your smile ready for the oncoming holiday photos? If not, cosmetic dentistry treatment from your dentist can help.
Get You Smile Camera-Ready with the Right Cosmetic Treatment
Everyone looks better when they feel confident in their smile. If your teeth have suffered some staining, or you've got some imperfections in your smile that bother you, cosmetic dentistry can help. A treatment like teeth whitening can bleach stains and remove them from the surfaces of your teeth. Teeth whitening through your dentist typically offers much better results than using an over-the-counter kit. Porcelain dental veneers can account for any asymmetry or irregularity in size. Veneers can also offer a degree of whitening — making them a versatile cosmetic option.
Your Needs Will Dictate Your Treatment Plan
No two smiles are exactly the same, and you deserve a treatment plan that is tailored to your smile. By working with your dentist, you can address the needs that are specific to you with a cosmetic solution built around your budget and timetable. Treatment options like veneers often only require a single office visit, so there's still time to have your smile camera-ready before the holiday season kicks into top gear.
Stubbs Family Dentistry Creates Custom Smile Solutions
A one-size-fits-all approach to cosmetic dentistry won't deliver the optimal results for you. You need to work with a dentist who invests in your personal situation. Stubbs Family Dentistry offers complimentary cosmetic consultations, giving you the opportunity to work directly with an experienced dentist to create your cosmetic plan. To schedule an appointment for your camera-ready smile, contact Stubbs Family Dentistry in West Allis, WI at 414-541-8250.