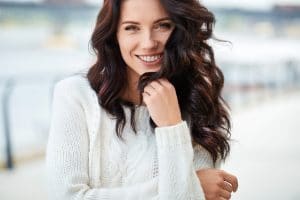 "Confidence is key." You've heard this saying applied to so many different scenarios, and that's because it's true! When you feel confident in a situation, people notice your energy. It puts others at ease. So, it's important that you don't things like an uneven or dulled smile reduce your confidence. If you don't feel good about your smile, you can't operate at your best. Luckily, cosmetic dentistry can correct for all kinds of asymmetries and blemishes in your smile. With a wide range of procedures available to your dentist, all you need to do is ask.
Porcelain Veneers Cover Up Irregularities Across Your Mouth
Porcelain veneers are made from thin layers of dental porcelain. Your dentist then bonds the veneer to the exterior of your tooth. The veneer can be fabricated to brighten the appearance of your tooth, and correct for any irregularities in size or shape. This treatment is simple, but accounts for many of the flaws that can affect your smile.
Professional Teeth Whitening Delivers Professional Results
Yellowing is a totally natural process that comes from the foods we eat, drinks we drink, and lifestyle habits we adopt. Your enamel may start to lose its white sheen. If you've tried over-the-counter whitening products before, you may have been dissatisfied with the results. Working with your dentist, you'll have access to professional whitening treatment that delivers professional-quality results.
A Dental Crown Provides Protection and Esthetic Improvement
Dental crowns are a versatile treatment for dentists. That's because dental crowns provide restorative protection for teeth that have suffered physical damage or decay. However, crowns also provide a cosmetic benefit. A dental crown covers your damaged tooth and is fabricated to look like your other teeth and fit comfortably alongside them.
Schedule a Free Cosmetic Consultation with Flynn Dentistry
It's time to stop wondering whether cosmetic dentistry can improve your smile and your confidence. Explore your options! Talk to the team at Stubbs Family Dentistry to set up a complimentary cosmetic consultation. During this visit, you can develop a treatment plant to eliminate any irregularities in your smile that are causing you to feel self-conscious. Make your appointment today by contacting Stubbs Family Dentistry in West Allis, WI at 414-541-8250.