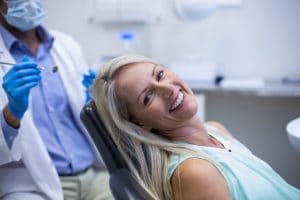 If you want to improve the quality of your smile, you probably already know the area that you'd like to fix. Perhaps your teeth have picked up some stains from food and drinks over the years. Maybe an accident has left you with a small chip in one of your teeth. If could be that you need a dental filling but don't want others to notice the work after it's been done. The best way for you to determine which cosmetic treatment is right for your situation is by working with a professional. When you receive a free cosmetic dentistry consultation, you'll walk away knowing the precise next steps you should take.
A Cosmetic Dentistry Consultation Allows Your Dentist to Determine What's Best for You
Modern cosmetic dentistry includes a variety of tools to help you get your smile on track. It's just a matter of knowing which one is best for you. That's where your dentist comes in. When you take advantage of a free consultation, your dentist can ask you questions about your teeth and take a look for him or herself. Then, you can develop a treatment plan together, so you both feel good about the situation.
You Have Many Different Cosmetic Options to Address Your Needs
If you need a dental filling, this is typically considered a restorative dental treatment. However, there's a cosmetic element to the treatment as well. You don't necessarily want others to know you've had a filling placed. You may want a tooth-colored filling in this case.
If you have a small chip in your tooth, dental bonding and contouring may be the right option for you. These minimally invasive procedures can correct for small irregularities in shape or size.
If time and lifestyle have caused your teeth to stain, teeth whitening may be the way to go. Professional whitening with the help of your dentist can give you better results than drugstore products.
See Michael Flynn for a Complimentary Consultation
You won't know which cosmetic treatment is right for you until you talk to your dentist. Dr. Stubbs provides expert consultation to help you improve your smile. For a complimentary consultation with Stubbs Family Dentistry, contact the office in West Allis, WI at 414-541-8250.