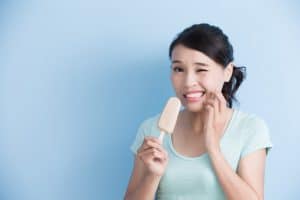 Are you growing tired of altering your diet, all based on your teeth's noticeable tooth sensitivity? While you might want to ignore the issue, hoping it will simply go away, the teeth lack the ability to repair themselves when damaged. That means you are more likely to struggle with increasing dental issues, including the possibility of a painful tooth infection, if you don't seek treatment at the first sign of trouble. To help prevent worsening issues, it's important to schedule a restorative dental visit as soon as possible, if you suspect your smile could be in trouble.
Discomfort Could Be a Warning of a Dental Problem
While tooth sensitivity is not uncommon, it should never simply be ignored. Sensitivity, discoloration, and discomfort are just a few of the common warning signs when the teeth have become eroded or otherwise damaged.
If you seek restorative treatment promptly, when you even suspect that you could be suffering from a cavity or other dental issue, your dentist is much more likely to be able to restore your comfort, and your smile, with minimally invasive treatment.
Don't Ignore Indicators of Trouble
If you are diagnosed with a dental cavity, a simple dental filling is likely a sufficient form of treatment, and one that can help improve both your comfort and even the appearance of your smile. For chipped or cracked teeth, the dentist might recommend a dental crown instead. These offer great protection, and are built to withstand the wear of chewing, allowing for your tooth beneath the crown to remain in tact.
Need to Schedule Restorative Treatment?
Dr. Stubbs provides a number of restorative dental treatments. To schedule a restorative appointment with Michael E. Flynn, DDS, call our office at 414-541-8250. Our office gladly welcomes patients from West Allis, Brookfield, Wauwatosa, and all Western Milwaukee communities.