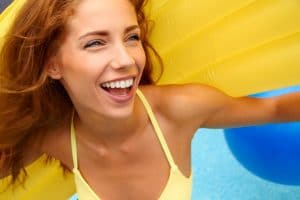 Summer is the season when everything gets a little lighter and brighter. Summertime is a season for smiling. If you are looking to brighten up your appearance, whitening your teeth could be the place to start. It can be an easy process that makes a huge difference. There are over-the-counter and even DIY remedies using ingredients in your kitchen that can whiten your teeth a bit. But to get a truly dazzling smile, a professional treatment is more effective. A professional-grade whitening treatment can remove stains, discoloration, and dramatically lighten the color of your teeth by several shades. 
Treatments at home
When going with a professional treatment, your dentist will outfit you with a custom tray fit for your teeth. Along with the tray, you will be sent home with a whitening gel. Your dentist will give you specific instructions with how long and how frequently you will wear your tray with gel. Typically the treatment will take two weeks. In that time, the gel will break up the stains on your teeth revealing white, bright teeth.
Maintaining the brightness
Once your teeth have been treated, you can maintain the fresh white color. Keeping a good oral hygiene routine with brushing and flossing twice a day will help to keep your teeth clean and sparkling. Be mindful when consuming stain-causing food and drink.
Is it time for you to whiten your smile?
Dr. Stubbs can provide you with a whitening treatment suited for summer. To schedule a consultation, with Michael E. Flynn, DDS, call our office at 414-541-8250. Our office gladly welcomes patients from West Allis, Brookfield, Wauwatosa, and all Western Milwaukee communities.