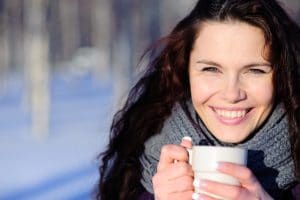 Are you embarrassed by the deep stains on your teeth? Do you find yourself avoiding photo ops, and even holiday parties, because of how insecure you feel about your smile? If so, have you considered that what you might most want this holiday is a brighter smile? Fortunately, you don't need Santa's help to achieve a dazzling smile. You just need to schedule a visit with your cosmetic dentist, who can help to lighten your smile by several noticeable shades and restore your confidence, just in time for the merry making!
Need to Lighten Up?
If you are ready to lighten up, so to speak, have you considered the benefits of choosing professional teeth whitening? Professional treatment is designed to create noticeable results, quickly, unlike many over-the-counter products, which tend to take longer and often only lighten teeth by a few shades.
Another benefit of choosing professional whitening is that the dentist can help ensure the treatment is safe and effective, while taking measures to try to lessen sensitivity. Plus, if the teeth's stains are determined to be intrinsic or permanent, in nature, they could still be addressed through other forms of cosmetic treatment, such as cosmetic bonding or even porcelain veneers.
Enjoy Long-lasting Smile Enhancements
Cosmetic bonding is a fast and affordable way to help address many imperfections, including permanent stains and also inconsistencies in the shape or size of the teeth. It can also hide minor gaps between teeth. That said, for even longer-lasting results, most dentists recommend porcelain veneers, which can be crafted to create natural-looking enhancements that can last many years, with proper care, thanks to porcelain's durability.