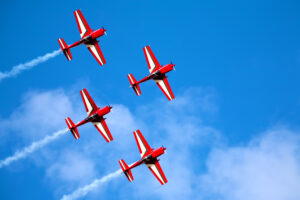 On Monday, July 25, the skies of Oshkosh will feature a number of remarkable shows as the EAA Airventure begins! This weeklong event will feature a number of airshows, educational programs, and many more special activities. This year's Airventure is welcoming guests under eighteen for FREE, as this show provides a great opportunity for young people to learn about the power of flight and the appeal of taking to the skies.
The right maintenance is crucial to make sure a plane stays safe to fly. Your smile also depends on quality care to prevent problems. At home, you should take care of yourself by brushing and flossing regularly, and by limiting your sugar intake. In addition to this daily support, take advantage of regular preventive dental exams from your West Allis, WI dentist! These appointments provide important updates about the state of your smile as well as cleanings that help it remain in good condition.
When:
The EAA Airventure will start on Monday, July 25 and continue through Sunday, July 31.
Where:
For information on parking and transportation, shuttle services, and rideshare drop-off and pickup locations, please click here.
Cost:
Learn more about ticketing for different event dates and activities here. Visitors under the age of eighteen will be admitted for free this year to help introduce youths to potential career paths in aviation.
Activities Include:
Throughout the week, the EAA Airventure will host impressive air shows performed by talented pilots, display different types of aircraft for visitors to view, and host a number of special events that guests can take part in. There will be daytime activities as well as special programs in the evening, including regular film screenings that celebrate the gift of flight.
For More Information:
To find out more about this upcoming special event, please click here.
Enjoy Beneficial Smile Care From Your West Allis, WI Dentist!
Aircraft maintenance can certainly be a more involved process than the one you should follow to keep your smile healthy. With that said, you should be consistent in your efforts to keep your teeth clean. Brushing and flossing at home, keeping up with a smart diet, and regularly seeing your dentist for routine care can help you avoid problems like dental decay and gum disease. For more information about our practice, or to schedule an appointment, reach out to Dr. Stubbs in West Allis, WI, by calling (414) 541-8250.