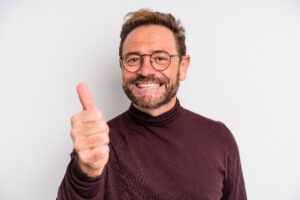 How important is your periodontal health? If you currently struggle with gum disease, you need to worry about several complications, including tooth loss! Problems with advanced gum disease are the leading cause of tooth loss for adults; if you are not doing enough to protect these tissues now, prosthetic dental work could be in your future! Our West Allis, WI dentist's office is prepared to help patients who are concerned about this. We provide different services that help manage poor periodontal health, and we can offer ongoing preventive support to help you avoid future difficulties. Our practice is also prepared to help those who have already experienced tooth loss and want to regain a complete smile.
Are You At Risk For Losing Teeth?
Your risk for losing teeth rises when you have issues with your periodontal health. Gum disease occurs when oral bacteria begin to make their way beneath your tissues and gather on the roots of your teeth. They can do tissue damage and create pockets around teeth. At the first stage of an infection, gingivitis, you can receive treatment to reverse the condition and regain your health. However, when the problem grows more serious, a more involved approach to care becomes necessary.
We Can Help You Manage Poor Periodontal Health
There are different recommendations we can give for treating poor gum health, which are based on the degrees of trouble with these tissues. Scaling and root planing provides the most conservative approach, one that clears away bacteria on the roots of your teeth to stop their worsening harm. For more serious infections, we can recommend more involved forms of care. That support can even include treatment with laser tools, or minor oral surgery to effectively treat the site of the infection.
Services To Replace Teeth That Have Already Been Lost
For patients who have already experienced tooth loss, we are prepared to help. We can restore a dental implant so that your smile is complete once again. The implant offers enough stability to make biting and chewing with your restoration comfortable. It also provides added stability for neighboring teeth, and even support to help preserve the health of your jawbone. After suffering tooth loss, this approach can give you renewed confidence in your appearance as well as in your dental health and function.
Talk To Your West Allis, WI Dentist About Periodontal Care!
When you have the right support for your gums, you are less vulnerable to a number of concerns, including tooth loss! Our practice is here to help patients who want to avoid issues with advanced periodontal disease, and those who already need help managing a serious infection. If you have questions about how we can take care of you, please reach out to Dr. Stubbs in West Allis, WI, by calling (414) 541-8250.