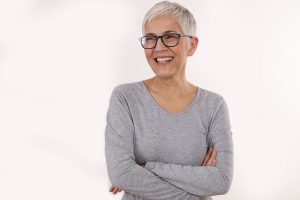 Our goal when caring for a patient's tooth is to find the most conservative treatment option. In other words, we want to make the fewest permanent changes possible while still fully restoring your oral health and appearance. Unfortunately, there are times when a tooth simply cannot be left in place. If its condition has deteriorated to the point where saving it is not possible, we can instead make plans to safely remove it, then replace it with a custom dental restoration. At our West Allis, WI dentist's office, we are prepared to carefully extract a problem tooth so that we can make plans to restore your full smile with a dental implant-held restoration.
A Tooth's Health Can Deteriorate Until It Cannot Be Restored
If you schedule restorative dental work in time, your tooth can receive care with a filling or crown. It is important that you schedule treatment as soon as possible when you think something may be wrong. The longer you wait to schedule a procedure, the more a tooth's health can deteriorate. Eventually, damage from an infection can be so severe that your tooth has to be removed so that we can stop further issues with pain and poor health. Tooth loss can lead to understandable concerns about your appearance and bite function. To address these issues, we are prepared to take care of you by planning treatment with an implant-held restoration.
How Dental Implants Provide Lasting Oral Health And Bite Support
Dental implant-held restorations can be trusted to support your bite function. The implant holding your restoration in position can keep it secure when you apply pressure to it, which means you will not have to adopt an awkward or uncomfortable bite function after receiving your restoration. Implants also help you because they stimulate your jawbone over time. That stimulation is something that teeth roots typically provide. Without it, the bone can begin to deteriorate, leading to cosmetic problems as well as difficulties with your oral health.
Preventing Future Oral Health Difficulties That Lead To Tooth Loss
How can you make sure you receive timely care before a tooth needs to be extracted? At regular dental checkups, your dentist provides a thorough review of your smile and warnings about any active problems. If you do have problems, they can be resolved with a more conservative treatment, which preserves your full smile.
Talk To Your West Allis, WI Dentist's Office About Safely Removing And Replacing An Unhealthy Tooth!
 When it is necessary to do so, we can take on problems with your smile by safely extracting your tooth and starting plans to restore your smile with a dental implant-held restoration. For more information, please contact Stubbs Family Dentistry in West Allis, WI at 414-541-8250.