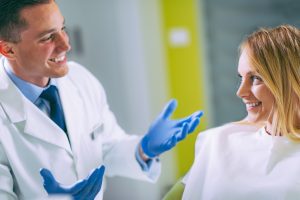 If you think something is wrong with the health of your tooth, make sure you seek treatment as soon as possible. Waiting to undergo treatment for a cavity or dental injury can leave you vulnerable to complications with infection. It can also mean experiencing more pain that interferes with your ability to bite and chew food. At our West Allis, WI dental office, we can take care of your vulnerable tooth by putting a dental crown over it. By placing a crown on the tooth, we can make sure it is safe to apply pressure on it when you bite down, and that you are no longer at risk for infection or further damage.
When Is It Appropriate To Place A Dental Crown?
Dental crowns fully envelop a tooth above your gum line. To place one, your dentist will actually have to modify your tooth structure to make room for it. This is a more involved process than the placement of a dental filling, or cosmetic dental treatment. The greater coverage provided by the crown offers more protection as well as more support for your bite.
What To Expect From Your Restoration
A crown can completely cover a vulnerable tooth so that you do not have to worry about it being damaged or becoming infected. Being able to maintain a healthy, natural bite function is important for preventing TMJ pains and using your teeth to apply bite force evenly. When you have your crown in place, it should feel secure and supportive enough to let you bite and chew in a way that feels natural. If you no longer feel comfortable biting down with an older crown, make sure your dentist knows this.
We Can Help You Avoid Problems In The Future
Crowns are an important means of protecting vulnerable teeth. With that said, your goal should be to prevent problems that call for their placement! We can help you with this at every routine dental visit. At your appointments, your teeth are thoroughly cleaned and evaluated so that problems can be caught early. If a smaller cavity is present at an appointment, we can restore it with a filling before you need a crown.
Talk To Your West Allis, WI Dentist About Receiving A Dental Crown
 Patients who come to Stubbs Family Dentistry for treatment can receive custom, durable dental crowns capable of restoring their oral health and smile. Through treatment, we can provide you with lasting protection that lets you bite, chew, speak, and smile with confidence. Remember that we provide a range of services, including preventive care that can help you avoid more issues with your dental health and appearance. To find out more about our office and services, please contact us by calling our dental office in West Allis, WI at 414-541-8250.